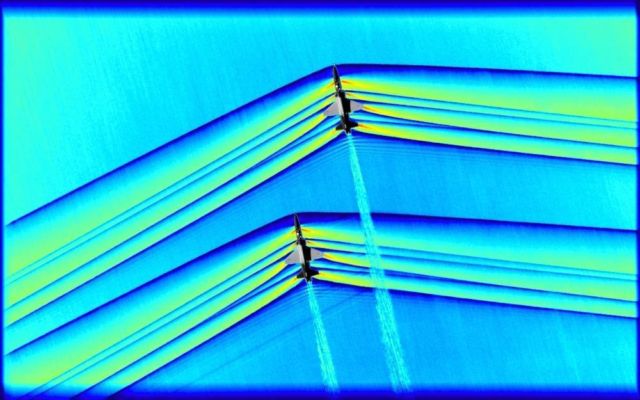 NASA captures for the first time images of supersonic shockwaves merging in air.
NASA has successfully tested an advanced air-to-air photographic technology in flight, capturing the first-ever images of the interaction of shockwaves from two supersonic aircraft in flight.
Above, NASA flew a B-200, outfitted with an updated imaging system, at around 30,000 feet while the pair of T-38s were required to not only remain in formation, but to fly at supersonic speeds at the precise moment they were directly beneath the B-200. The images were captured as a result of all three aircraft being in the exact right place at the exact right time designated by NASA's operations team.  Credits NASA Photo
Physical Scientist J.T. Heineck of NASA's Ames Research Center in Mountain View, California, said:
"I am ecstatic about how these images turned out. With this upgraded system, we have, by an order of magnitude, improved both the speed and quality of our imagery from previous research."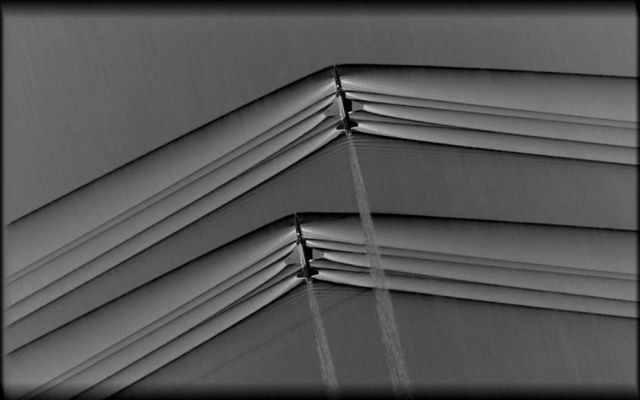 The images were captured during the fourth phase of Air-to-Air Background Oriented Schlieren flights, or AirBOS, which took place at NASA's Armstrong Flight Research Center in Edwards, California. The flight series saw successful testing of an upgraded imaging system capable of capturing high-quality images of shockwaves, rapid pressure changes which are produced when an aircraft flies faster than the speed of sound, or supersonic. Shockwaves produced by aircraft merge together as they travel through the atmosphere and are responsible for what is heard on the ground as a sonic boom.
The system will be used to capture data crucial to confirming the design of the agency's X-59 Quiet SuperSonic Technology X-plane, or X-59 QueSST, which will fly supersonic, but will produce shockwaves in such a way that, instead of a loud sonic boom, only a quiet rumble may be heard. The ability to fly supersonic without a sonic boom may one day result in lifting current restrictions on supersonic flight over land.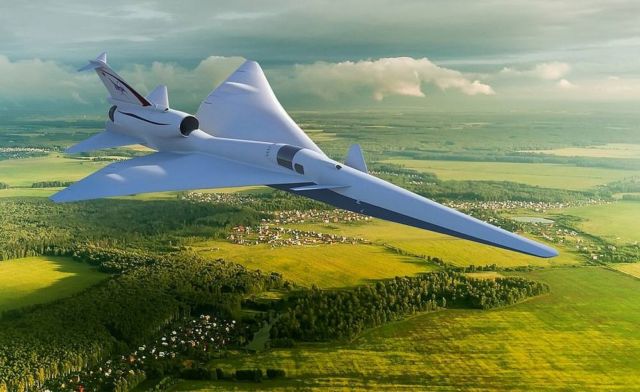 NASA's X-59 Quiet supersonic technology X-plane, with a quieter sonic boom.  Credit NASA
Images credit NASA
source NASA