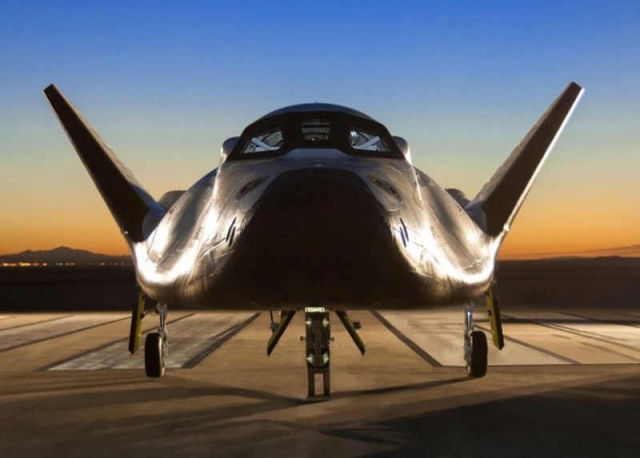 NASA just added Sierra Nevada Corporation's (SNC) unmanned Dream Chaser, to the privately owned fleet that will bring supplies to the Space Station (ISS).
Dream Chaser, as early as 2019, will become the first winged vehicle to fly into orbit, since NASA retired the space shuttles in 2011.
NASA has awarded three cargo contracts to ensure the critical science, research and technology demonstrations that are informing the agency's journey to Mars are delivered to the International Space Station (ISS) from 2019 through 2024. The agency unveiled its selection of Orbital ATK of Dulles, Virginia; Sierra Nevada Corporation of Sparks, Nevada; and SpaceX of Hawthorne, California to continue building on the initial resupply partnerships with two American companies.
These Commercial Resupply Services (CRS-2) contracts are designed to obtain cargo delivery services to the space station, disposal of unneeded cargo, and the return of research samples and other cargo from the station back to NASA.
NASA Administrator Charles Bolden, said:
"Few would have imagined back in 2010 when President Barack Obama pledged that NASA would work 'with a growing array of private companies competing to make getting to space easier and more affordable,' that less than six years later we'd be able to say commercial carriers have transported 35,000 pounds of space cargo (and counting!) to the International Space Station — or that we'd be so firmly on track to return launches of American astronauts to the ISS from American soil on American commercial carriers. But that is exactly what is happening. Today's announcement is a big deal that will move the president's vision further into the future."
The contracts, which begin upon award, guarantee a minimum of six cargo resupply missions from each provider. The contracts also include funding ISS integration, flight support equipment, special tasks and studies, and NASA requirement changes.
Kirk Shireman, ISS Program manager at NASA's Johnson Space Center in Houston, said:
"The second generation of commercial cargo services to low-Earth orbit begins today. By engaging American companies for cargo transportation, we can focus our attention on using this one-of-a-kind laboratory in the sky to continue advancing scientific knowledge for the benefit of all humanity."
source NASA