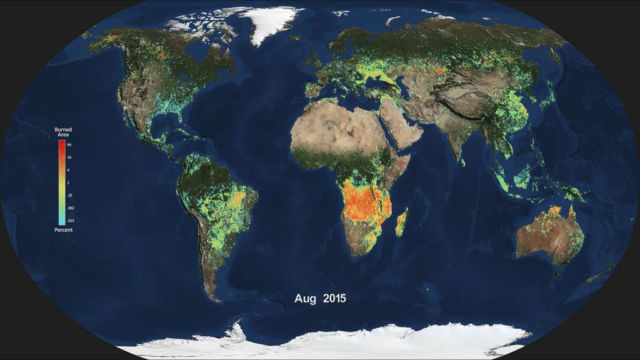 A new NASA-led study has solved a puzzle involving the recent rise in atmospheric methane, a potent greenhouse gas, with a new calculation of emissions from global fires.
The new study resolves what looked like irreconcilable differences in explanations for the increase.
The monthly burned area percent shown in the Robinson projection with a colorbar and date overlay.  Credits: NASA/GSFC/SVS

Methane emissions have been rising sharply since 2006. Different research teams have produced viable estimates for two known sources of the increase: emissions from the oil and gas industry, and microbial production in wet tropical environments like marshes and rice paddies. But when these estimates were added to estimates of other sources, the sum was considerably more than the observed increase. In fact, each new estimate was large enough to explain the whole increase by itself.
Scientist John Worden of NASA's Jet Propulsion Laboratory in Pasadena, California, and colleagues focused on fires because they're also changing globally. The area burned each year decreased about 12 percent between the early 2000s and the more recent period of 2007 to 2014, according to a new study using observations by NASA's Moderate Resolution Imaging Spectrometer satellite instrument. The logical assumption would be that methane emissions from fires have decreased by about the same percentage. Using satellite measurements of methane and carbon monoxide, Worden's team found the real decrease in methane emissions was almost twice as much as that assumption would suggest.
When the research team subtracted this large decrease from the sum of all emissions, the methane budget balanced correctly, with room for both fossil fuel and wetland increases. The research is published in the journal Nature Communications.
Atmospheric methane concentrations are given by their weight in teragrams.
One teragram equals about 1.1 million U.S. tons — more than the weight of 200,000 elephants.
Methane emissions are increasing by about 25 teragrams a year, with total emissions currently around 550 teragrams a year.
source NASA