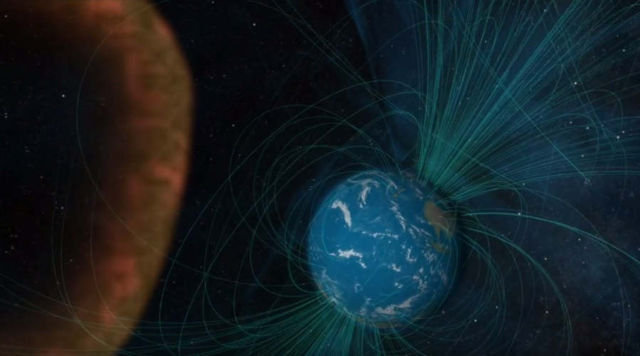 NASA's MMS captures Earth's magnetic reconnection in action.  This short video outlines the MMS mission and its first results…
Like sending sensors up into a hurricane, NASA has flown four spacecraft through an invisible maelstrom in space, called magnetic reconnection.
Magnetic reconnection is one of the prime drivers of space radiation and so it is a key factor in the quest to learn more about our space environment and protect our spacecraft and astronauts as we explore farther and farther from Earth.
MMS is made of four identical spacecraft that launched in March 2015. They fly in a pyramid formation to create a full 3-dimensional map of any phenomena it observes. On October 16, 2015, the spacecraft traveled straight through a magnetic reconnection event at the boundary where Earth's magnetic field bumps up against the sun's magnetic field.
Since it launched, MMS has made more than 4,000 trips through the magnetic boundaries around Earth, each time gathering information about the way the magnetic fields and particles move. A surprising result was that at the moment of interconnection between the sun's magnetic field lines and those of Earth the crescents turned abruptly so that the electrons flowed along the field lines. By watching these electron tracers, MMS made the first observation of the predicted breaking and interconnection of magnetic fields in space.
Credit: NASA/GSFC/Genna Duberstein
source NASA