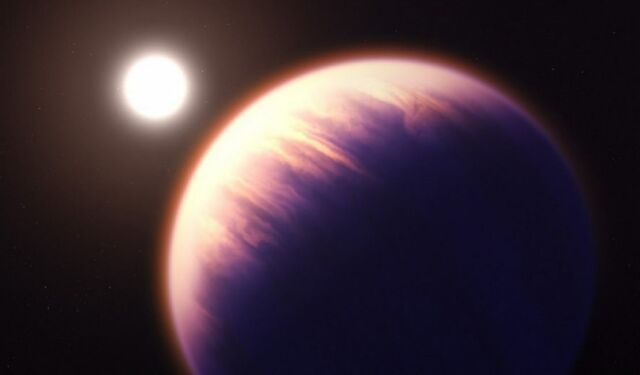 NASA's James Webb Space Telescope reveals molecules and clouds in an exoplanet's atmosphere, that could be used to determine if a distant planet harbors life.
The molecular and chemical profile of the WASP-39b distant exoplanet, revealed by James Webb Space Telescope.
While Webb and other space telescopes, including NASA's Hubble and Spitzer, previously have revealed isolated ingredients of this broiling planet's atmosphere, the new readings from Webb provide a full menu of atoms, molecules, and even signs of active chemistry and clouds.
The latest data also gives a hint of how these clouds might look up close: broken up rather than a single, uniform blanket over the planet.
The telescope's array of highly sensitive instruments was trained on the atmosphere of WASP-39 b, a "hot Saturn" (a planet about as massive as Saturn but in an orbit tighter than Mercury) orbiting a star some 700 light-years away.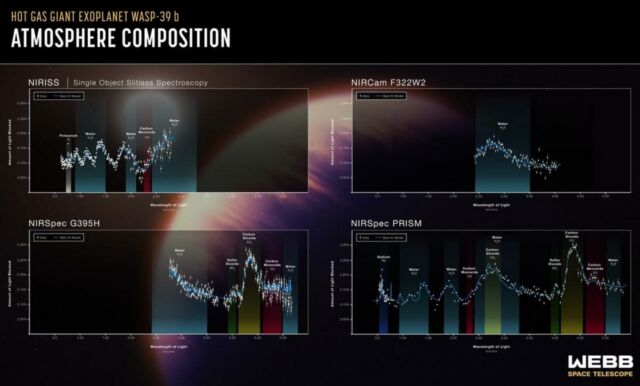 The findings bode well for the capability of Webb's instruments to conduct the broad range of investigations of all types of exoplanets – planets around other stars – hoped for by the science community. That includes probing the atmospheres of smaller, rocky planets like those in the TRAPPIST-1 system.
"We observed the exoplanet with multiple instruments that, together, provide a broad swath of the infrared spectrum and a panoply of chemical fingerprints inaccessible until [this mission]," said Natalie Batalha, an astronomer at the University of California, Santa Cruz, who contributed to and helped coordinate the new research. "Data like these are a game changer."
Images credit NASA