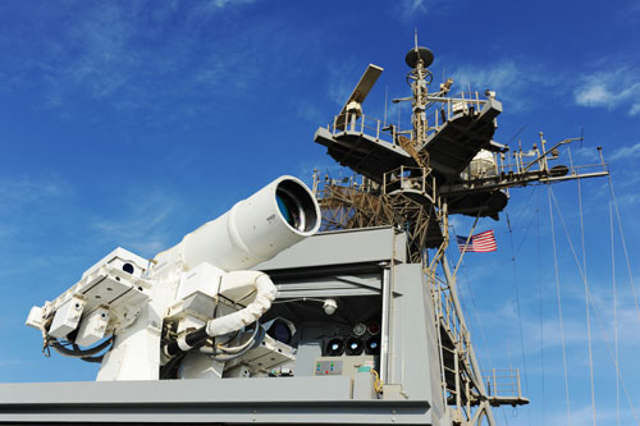 The U.S. Navy will soon test a new directed energy weapon that is five times more powerful, than the one developed 30-kilowatt laser.
Navy to Test Powerful 150-Kilowatt Laser
Adm. Bill Moran during a speech at Booz Allen Hamilton's Directed Energy Summit, said:
"The Office of Naval Research will perform a shipboard test of a 150-killowatt laser weapon system in the near future."
Above, laser system on the U.S.S. Ponce.   Credit the Navy
The laser weapon system, or LaWs, "has an extremely low-cost per engagement ratio," he said. "We're spending pennies on the dollars … every time we use that capability."
The Navy's 30-kilowatt laser weapon is currently onboard the USS Ponce. The system, which has been used operationally in the Persian Gulf, offers military leaders precision accuracy at a low cost.




"These technologies are being developed and fielded by a growing number of countries all around the world, it's not just us," he added. "If we don't get ahead of that capability by our adversaries, we're going to find ourselves in a very difficult position in the future."
via foxtrotalpha