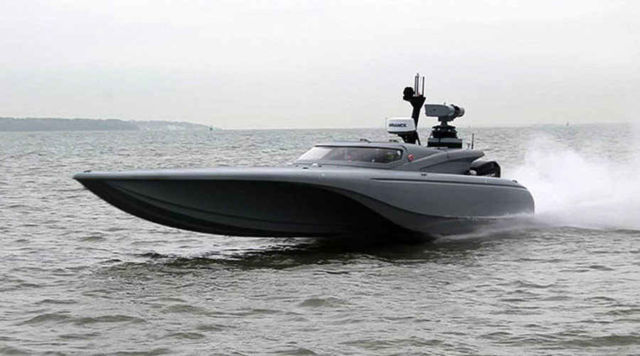 The RoyalNavy tested Bladerunner unmanned drone boat, at Tower London Bridge.
Bladerunner robotic speedboat does not carry weapons, is designed to carry out surveillance operations.
Above, image credit Ministry of Defence  
The 32ft long unmanned drone boat, weighs 2,000kg, is capable to run across the water at 50 knots, to intercept terror threats.
Operated by remote control, features a 360 degree camera, radar, GPS and radio.
LIVE on #Periscope: Exclusive First Look at BLADERUNNER an Unmanned High Speed Surface Vessel @RoyalNavy #UW16 https://t.co/EMhTT1o40L

— Alex Pettitt (@Alexpettitt) September 5, 2016




via theguardian