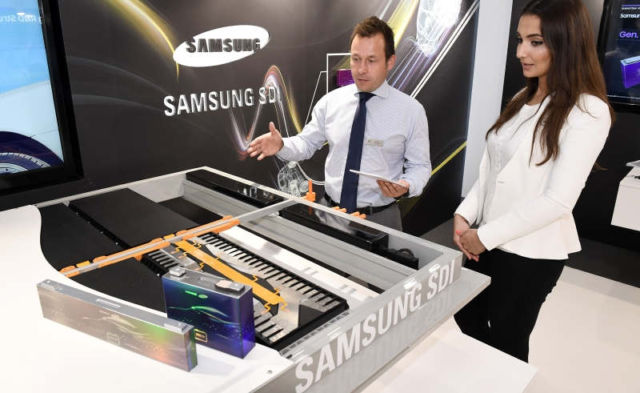 Samsung's new electric car batteries extend range to 600-700 kilometers.
Samsung announced that it has exhibited various products which could lead the popularization of electric vehicles at the Frankfurt Motor Show.
The SDI battery enables cars to go 600-700 kilometers on one charge
"Multifunctional battery pack" of Samsung SDI attracted the most attention. Its users can change the number of modules as they want as if they place books on a shelf. For example, if 20 modules are installed in a premium car, it can go 600 to 700 kilometers. If 10 to 12 modules are mounted on a regular sedan, it can run up to 300 kilometers. This pack is expected to catch the eyes of automakers, because they can design a car whose mileage may vary depending on how many modules of a single pack are installed.
"This is a cell whose height has been reduced by more than 20 percent than that of other existing cells. If this cell is applied, it can decrease the battery load height in an EV. If the height is reduced, interior space will be better utilized, enabling automakers to develop EVs of various designs."
source Samsung