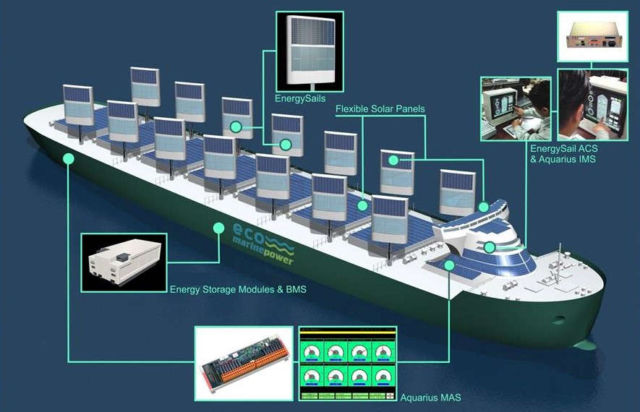 New ship with 'EnergySails,' harnesses at the same time solar and wind energy.
Aquarius MRE is an advanced integrated system of rigid sails, marine-grade solar panels, energy storage modules and marine computers that will enable ships to tap into renewable energy by harnessing the power provided by the wind and sun.
The use of these alternative sources of power and propulsion will reduce fuel consumption, lower air pollution and cut CO2 emissions.
The rigid sails used by Aquarius MRE are based on EMP's EnergySail technology. These renewable energy devices can even be used when a ship is at anchor or in harbor. Each EnergySail can be configured with a mix of sensors, photo-voltaic panels or other power generation devices.
Commenting on this latest development Greg Atkinson, Chief Technology Officer and Founder of Eco Marine Power said:
"It's great that we are able to co-operate with Hisafuku Kisen and we very much appreciate their cooperation in helping us move this important project towards sea trials. We also appreciate the support of our strategic partners and together we believe Aquarius MRE will pave the way towards the widespread adoption of renewable energy on ships."
source ecomarinepower