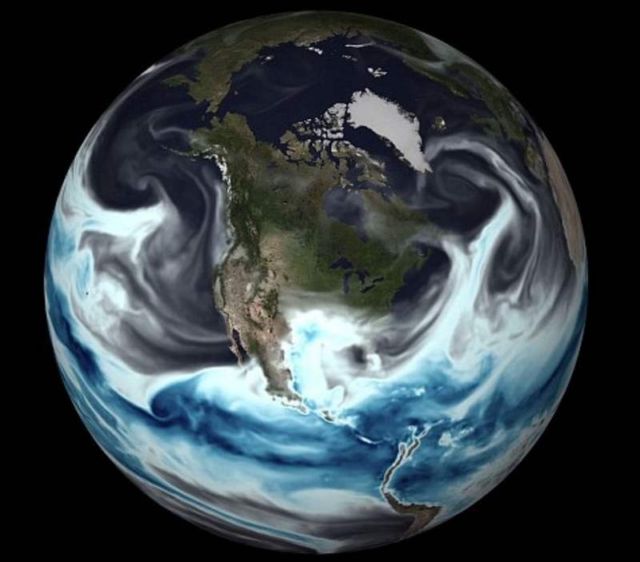 NOAA unveils new '4D' supercomputer model of the world's weather, improving dramatically the accuracy of forecasts.
The NOAA's new 4D model of global weather, allows to see hourly forecasts for the next five days, by taking into account how weather systems evolve on a 3D chart over time.
Images credit: NOAA
NOAA's Global Forecast System model visualized on NOAA's Science on a Sphere. Gray, blue and white colors depict moisture in the atmosphere on May 11, 2016, over North America.
NOAA's powerful Global Forecast System model was upgraded on May 11, 2016, providing forecasters with a more accurate 4-D picture of how a weather system will evolve. The upgrade is the latest of a number of model improvements rolling out this spring and summer, thanks to increased supercomputing power NOAA acquired earlier this year.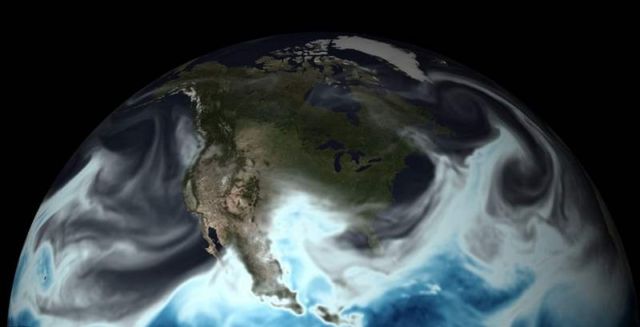 Louis Uccellini, Ph.D., director of NOAA's National Weather Service, said:
"The GFS is the foundation for all of our weather and climate models, so today's upgrade will add skill across all NOAA's forecast mission areas, including hurricanes and other high-impact weather. Current investments in more powerful supercomputers, advanced modeling capabilities, and better earth observing systems are creating more precision in the forecast process and strengthening America's resiliency to extreme weather, water and climate events."
source NOAA