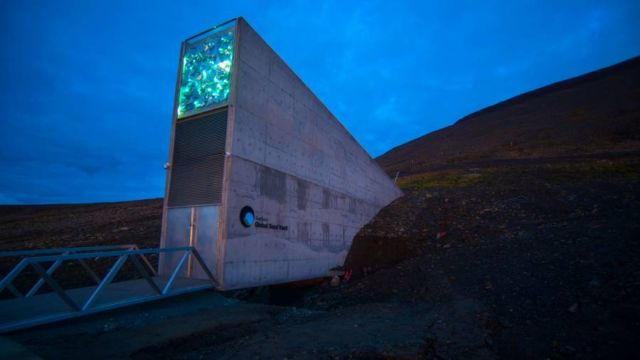 Norway will spend $13 million to upgrade its 'doomsday' seed vault, designed to protect crops against nuclear war or disease.
On the vault's 10th anniversary more than 70,000 crops added, making the total number of deposits over 1,000,000.
Above, the entrance to Svalbard Global Seed Vault. Credit Riccardo Gangale
Hannes Dempewolf, senior scientist of the Crop Trust international organization dedicated to conserving crop diversity, said:
"Hitting the million mark is really significant. Only a few years back I don't think we would have thought that we would get there."
The Svalbard Arctic seed vault on was opened in February 2008 by former Prime Minister Jens Stoltenberg and Dr. Wangari Maathai, the 2004 Nobel Peace Prize recipient. The purpose of the seed vault is to provide a stock of duplicates of seeds stored in national, regional and international gene banks worldwide
The seeds stored in the Svalbard Global Seed Vaults are packed in crates, each containing a maximum of 400 seed types. The crates are sealed by the gene bank depositing the seed. A single crate will hold up to 400 seed samples, and each seed sample consists of about 500 seeds stored in a sealed aluminium bag.
Svalbard Global Seed Vault can hold 4, 5 million different seed types, enough to store duplicates of all the unique seed types found today in the many gene banks around the world, with room to spare for new seed types collected by future researchers.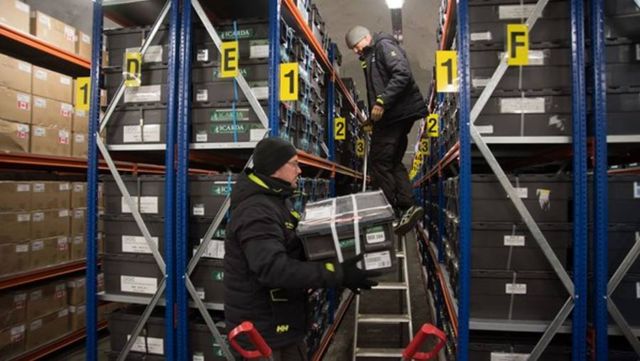 Image credit Riccardo Gangale
via BBC
source Norway's Agriculture Ministry