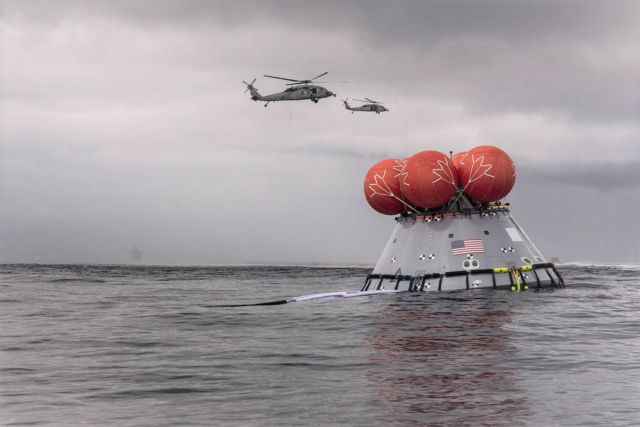 Test version of Orion capsule recovered in the Pacific Ocean by the US Navy.
With the USS John P. Murtha (LPD 26) in the distance, helicopters from the HSC-23 squadron fly by a test version of an Orion capsule during Underway Recovery Test-8 in the Pacific Ocean.
During this first full mission profile test of the recovery procedures for Artemis I, NASA's Landing and Recovery team met their objectives.
Artemis I, formerly Exploration Mission-1, will be the first integrated flight test of NASA's Deep Space Exploration Systems: the Orion spacecraft, Space Launch System rocket, with the newly upgraded Exploration Ground Systems at Kennedy Space Center in Cape Canaveral, Florida. The primary goal of the mission is to assure a safe crew module entry, descent, splashdown and recovery. Artemis will land the first woman and next man on the Moon by 2024.
Image Credit: NASA/Tony Gray
Editor: Yvette Smith