Good news for the planet!
The same international agreement that successfully put the ozone layer on the road to recovery is now being used to address climate change.
The size and depth of the ozone hole over Antarctica was not remarkable in 2016. As expected, ozone levels have stabilized, but full recovery is still decades away.
Above, Ozone Hole acquired October 1, 2016.
The stratospheric ozone layer protects life on Earth by absorbing ultraviolet light, which damages DNA in plants and animals (including humans) and leads to health issues like skin cancer. Prior to 1979, scientists had never observed ozone concentrations below 220 Dobson Units. But in the early 1980s, through a combination of ground-based and satellite measurements, scientists began to realize that Earth's natural sunscreen was thinning dramatically over the South Pole. This large, thin spot in the ozone layer each southern spring came to be known as the ozone hole.
The first image shows the Antarctic ozone hole on October 1, 2016, as observed by the Ozone Monitoring Instrument (OMI) on NASA's Aura satellite. On that day, the ozone layer reached its average annual minimum concentration, which measured 114 Dobson Units. For comparison, the ozone layer in 2015 reached a minimum of 101 Dobson Units. During the 1960s, long before the Antarctic ozone hole occurred, average ozone concentrations above the South Pole ranged from 260 to 320 Dobson Units.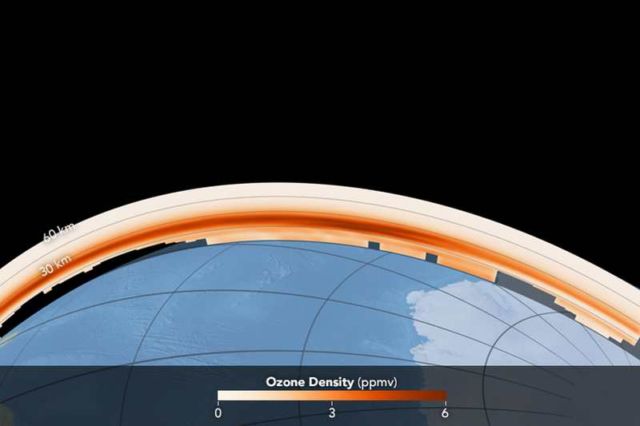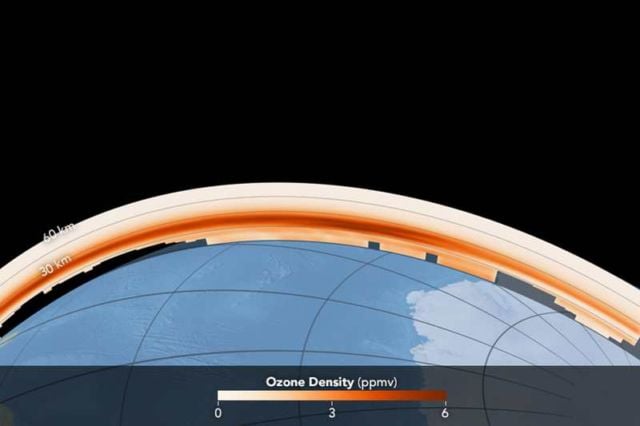 Ozone density acquired October 2, 2016
The area of the ozone hole in 2016 peaked on September 28, 2016, at about 23 million square kilometers (8.9 million square miles).
"This year we saw an ozone hole that was just below average size," said Paul Newman, ozone expert and chief scientist for Earth Science at NASA's Goddard Space Flight Center. "What we're seeing is consistent with our expectation and our understanding of ozone depletion chemistry and stratospheric weather."
"The Montreal Protocol is written so that we can control ozone-depleting substances and their replacements," said Newman, who participated in the meeting in Kigali. "This agreement is a huge step forward because it is essentially the first real climate mitigation treaty that has bite to it. It has strict obligations for bringing down HFCs, and is forcing scientists and engineers to look for alternatives."
source earthobservatory