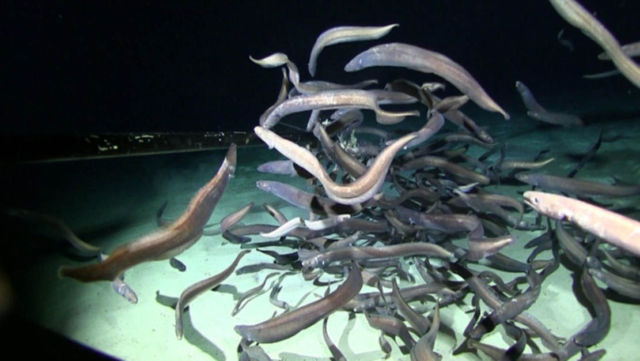 Expedition finds record number of fishes in abyssal deep-sea, in a large region stretching nearly from Hawaii to Mexico.
The largest aggregation of fishes ever recorded in the abyssal deep-sea was discovered by a team of oceanographers from the University of Hawaii at Mānoa, Monterey Bay Aquarium Research Institute and the National Oceanography Centre (NOC).
Above: Cutthroat eels on seamount summit in CCZ; over 9,800 feet deep. Image credit Drazen Lab/UH Mānoa; Deep CCZ Exp
Astrid Leitner, lead author on the study, who conducted this work as a graduate researcher in UH Mānoa's School of Ocean and Earth Science and Technology (SOEST), explained:
"Our observations truly surprised us. We had never seen reports of such high numbers of fishes in the sparsely-populated, food-limited deep-sea."
The researchers, including Leitner, Jennifer Durden from NOC and UH Mānoa professors Jeffrey Drazen and Craig Smith, made the observation on an expedition to the Clarion Clipperton Zone (CCZ). The CCZ is a large region stretching nearly from Hawaii to Mexico, which is being explored for deep-sea mining of nodules containing metals such as copper, cobalt, zinc and manganese.
Abyssal seamounts, deep underwater mountains whose summits are 9,800 ft (3,000 m) below the sea surface, dot the deep seascape and are some of the least explored habitats on the planet. During the expedition, the research team took samples from three of these seamounts and their surrounding plains as part of an effort to establish an ecological baseline prior to extraction activities.
The findings were published in Deep-Sea Research.
source University of Hawaii