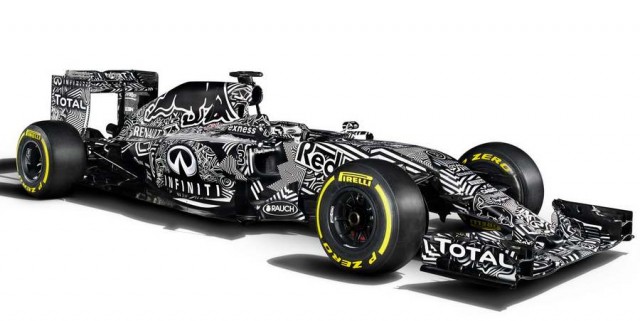 The 2015 Red Bull RB11 Formula 1 unveiled at Jerez, in Spain, with a camouflage, intended to hide its new design features.   Watch the video…
Images © Red Bull
Daniel Ricciardo drives the Red Bull RB11 at Jerez: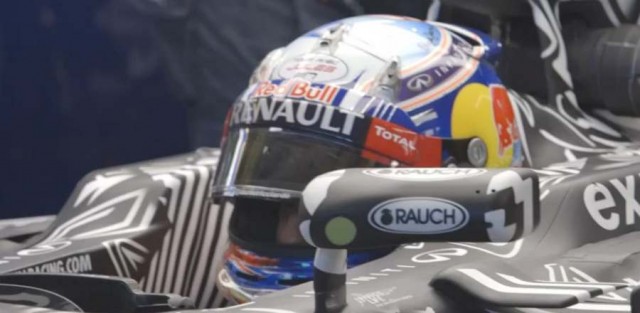 Press release
THE RB11 REVEALED
After an intensely busy off-season, Infiniti Red Bull's Racing's 2015 Formula One car, the RB11, has hit the track and begun testing at the Circuito de Jerez in Spain ahead of the new season.
Featuring a striking new test livery, the RB11 features a host of improvements in all areas as the team seeks to improve on its 2014 campaign, when it took the RB10 from a difficult start to second place in the Constructors' Championship. The most notable shape change to this year's car is the lower nose box and front of the chassis, which were amended in line with the latest regulations, but beyond that many of the RB11's updates are under its all–new black and white skin.
THE RB11 DESIGN
Chief Technical Officer Adrian Newey said: "The design of the RB11 has been very much about understanding what we learned from last season, which was a big regulation change as far as the power unit is concerned and the packaging that goes with that and setting about optimising the car from those lessons."
Chief Engineering Officer Rob Marshall added: "There are some changes that affect the shape of the front of the car but beyond that most of the changes are under the skin. We've identified the areas where we can make improvements and we've worked hard on these. There won't be a lot that's visible to the naked eye but a lot of hard work has gone into the bits that are hidden."
A large part of that work has involved improvements to Renault Sport's Energy F1 power unit, updates that have been made in closer collaboration with the team.
"The relationship with Renault is a lot closer now," says Team Principal Christian Horner of the team's technical ties with the French manufacturer. "Red Bull is the only partner for Renault now, through ourselves and Toro Rosso, and that focus from Renault together with a close involvement with our design team is yielding good results and a far closer integration between the power unit and the chassis side. Working in unison with Renault we can really make some big steps forward this year."
Newey adds that the process of reducing the deficit the team suffered last year will take time. "We have been working very hard with our partners Renault to help them develop the engine," he says. "What we have to remember is that the internal combustion engine and its very complicated associated items, the ERS and turbocharger, are long lead time items. Those are things where if one team takes an advantage then it takes time to overthrow that or get back on a par with or hopefully ahead."
source Red Bull