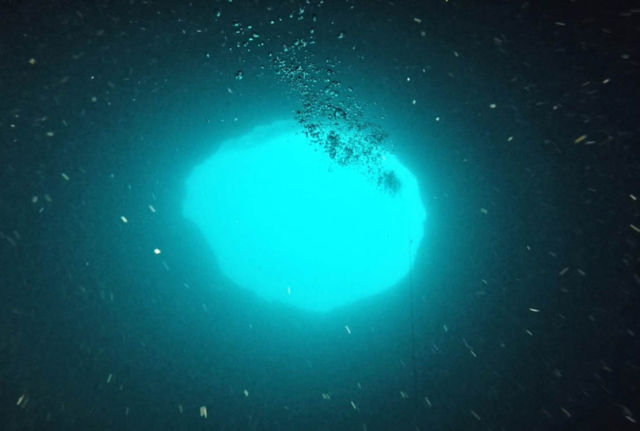 Scientists gearing up to explore mysterious 425-foot underwater sinkholes off the coast of Florida.
Blue holes are underwater sinkholes, similar to sink holes on land. Underwater sink holes, springs, and caverns are karst (calcium carbonate rock) features that are scattered across Florida's Gulf continental shelf. They vary in size, shape and depth, but most are ecological hot spots with a high diversity of abundance of plants and animals.
Above: A diver's view looking up to the opening of Amberjack Hole. Image courtesy of Mote Marine Laboratory
In May and September 2019, a team of scientists from Mote Marine Laboratory, Florida Atlantic University/Harbor Branch, Georgia Institute of Technology and the U.S. Geological Society, with support from the NOAA Office of Ocean Exploration and Research, explored one blue hole, dubbed "Amberjack Hole," approximately 30 miles offshore west of Sarasota. In August 2020 and May 2021, a second deeper location, Green Banana, will be explored.
The 2019 work was the team's most detailed blue hole investigation to date, as they deployed divers and a "benthic lander"—a framework holding multiple scientific instruments collectively weighing more than 270 kilograms (600 pounds)—into Amberjack Hole, whose bottom extends deeper than 107 meters (350 feet). The team documented life around the rim of the hole and carbon, nutrients, and microscopic life throughout the hole and in its bottom sediments.
source NOAA