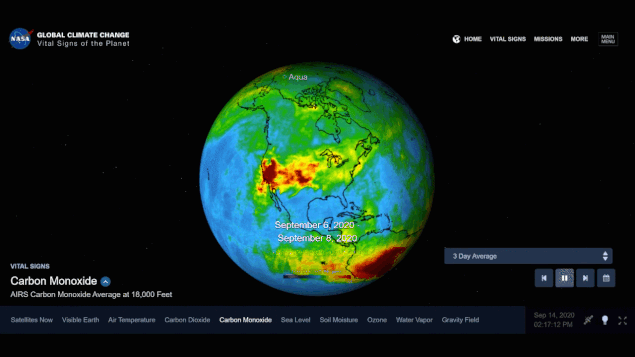 In September 2020, historic wildfires on the U.S. West Coast lofted plumes of smoke high into the atmosphere.
The observations from Earth orbit show high-altitude concentrations of the gas that are more than 10 times typical amounts.
NASA's Atmospheric Infrared Sounder (AIRS), aboard the Aqua satellite, captured carbon monoxide plumes coming from California wildfires last week. There were 28 major wildfires burning across the state as of Sept. 14. This includes the August Complex Fire, which started on Aug. 17 and has since burned over 471,000 acres, making it the largest fire on record in California.
Above: This visualization shows a three-day average of carbon monoxide concentrations, from Sept. 6 to 14, in the atmosphere over California due to wildfires. Higher concentrations of the gas appear as red and orange regions.  Image Credit NASA/JPL-Caltech
The animation shows three-day averages of carbon monoxide concentrations around 3 miles (5 kilometers) up in the atmosphere between Sept. 6 and Sept. 14. The red and orange areas indicate regions with extremely high carbon monoxide concentrations of greater than 350 parts per billion by volume (ppbv). The more normal, background concentrations of carbon monoxide show up as yellow and green, with amounts between 30 and 50 ppbv.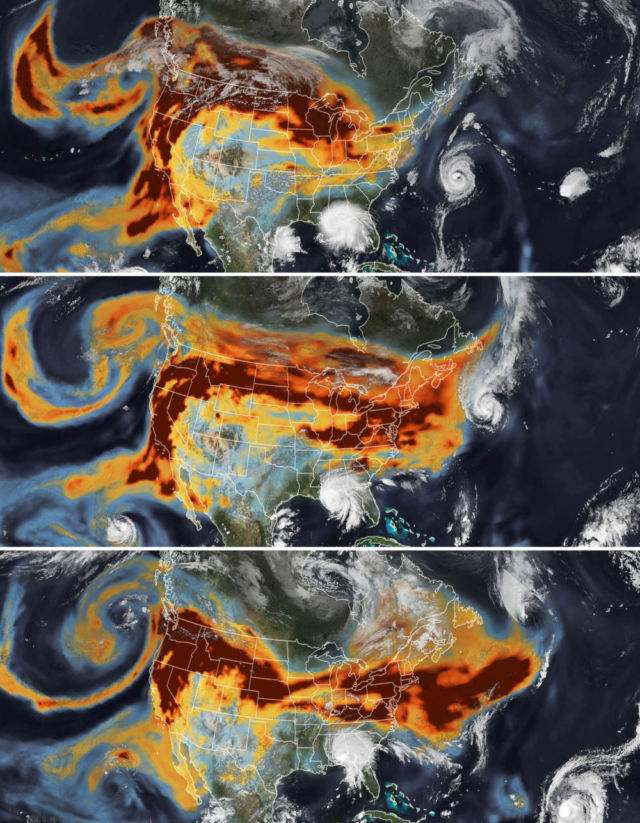 Pushed by prevailing winds that sweep air from west to east, satellites tracked the smoke as it spread widely across much of the continental United States. A second hazard—tropical cyclones—also helped steer the high-flying smoke plumes as they streamed over the Midwest and Northeast between September 14-16, 2020.
The series of images above shows the abundance and distribution of black carbon, a type of aerosol found in wildfire smoke, as it rode jet stream winds across the United States. The black carbon data comes from the GEOS forward processing (GEOS-FP) model, which assimilates information from satellite, aircraft, and ground-based observing systems. The Visible Infrared Imaging Radiometer Suite (VIIRS) on the NOAA-NASA Suomi NPP satellite acquired the images of the storms.