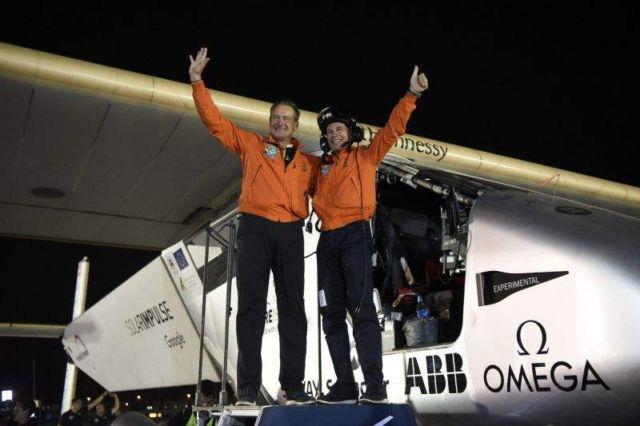 Solar Impulse completes historic 17 month round-the-world trip.
500 hours of flight, 25,000 miles and no fuel.
Solar Impulse 2 touched down in Abu Dhabi at 4:05am local time on July 26.
Above, Andre Borschberg (L) and Bertrand Piccard celebrate after Solar Impulse 2 touches down in Abu Dhabi.  Credit: Solar Impulse
We made it back to Abu Dhabi. 40'000km without fuel, a first for energy.
The solar plane took off from Abu Dhabi on March 9 2015.
The solar-powered aircraft was piloted by Swiss Bertrand Piccard and André Borschberg.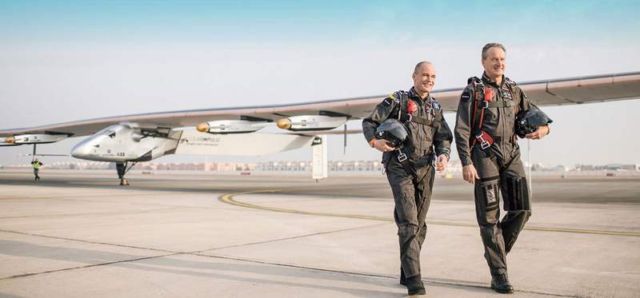 Credit: Solar Impulse
Taking turns at the controls of Solar Impulse 2 (Si2) – their zero-emission electric and solar airplane, capable of flying day and night without fuel – Bertrand Piccard and André Borschberg succeeded in their crazy dream of achieving the first ever Round-The-World Solar Flight. By landing back in Abu Dhabi after a total of 21 days of flight travelled in a 17-leg journey, Si2 has proven that clean technologies can achieve the impossible. Beyond this historic milestone, the two Swiss pioneers will continue to urge the global implementation of energy efficient solutions through the creation of the International Committee for Clean Technologies and leverage the expertise and technology gained over the years in Solar Impulse by launching new innovative projects, such as the development of solar powered drones.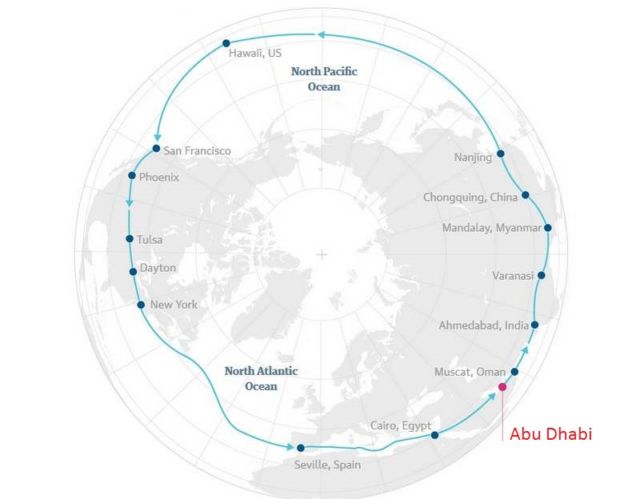 Credit: Solar Impulse
BREAKING: we flew 40'000km without fuel. It's a first for energy, take it further! #futureisclean pic.twitter.com/JCvKTDBVZx

— SOLAR IMPULSE (@solarimpulse) July 26, 2016