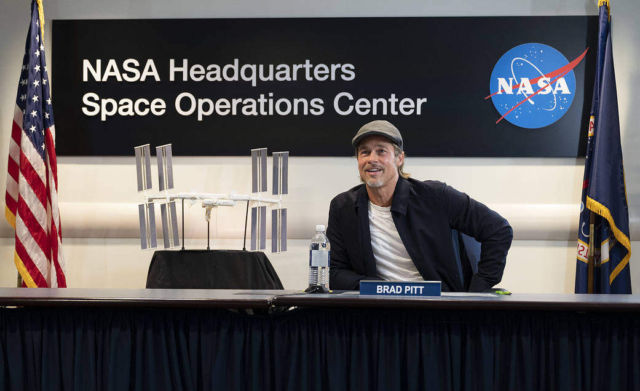 Actor Brad Pitt spoke with NASA astronaut Nick Hague, currently aboard the Space Station, Monday, Sept. 16, 2019 from the Space Operations Center at NASA Headquarters in Washington.
Pitt, who stars as an astronaut in his latest film Ad Astra, spoke with Hague about what it's like to live and work aboard the orbiting laboratory.
Image Credit: NASA/Joel Kowsky
Pitt's Earth-to-space call aired live on Monday, Sept. 16 on NASA Television, where Hague answered questions from the actor. For nearly 20 years, astronauts have continuously lived and work on the International Space Station, testing technologies, performing science and developing the skills needed to explore farther from Earth.
Editor: Yvette Smith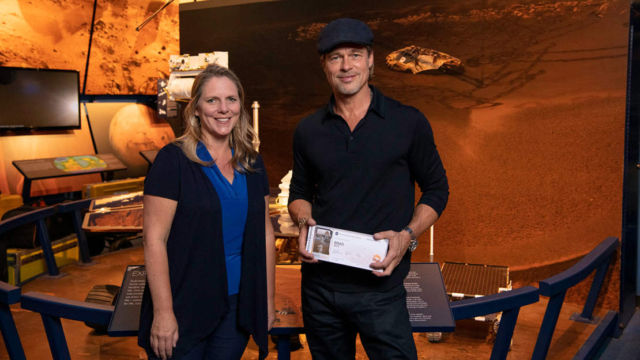 The actor Brad Pitt (right) shows off his "boarding pass" for Mars with Jennifer Trosper (left), the Mars 2020 project systems engineer, at JPL on Sept. 6, 2019. You can send your name to Mars aboard NASA's Mars 2020 rover at https://go.nasa.gov/mars2020pass until Sept. 30, 2019. Credit: NASA/JPL-Caltech