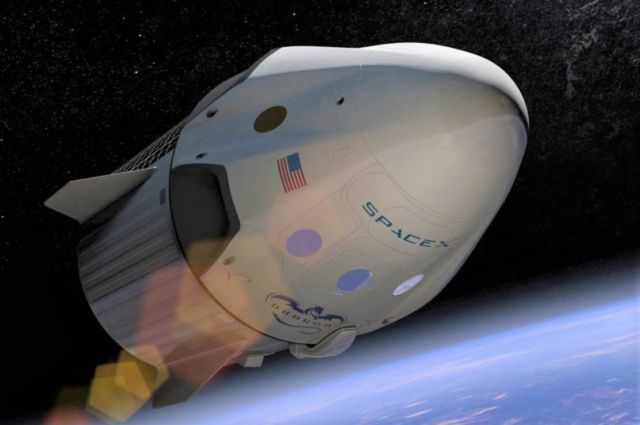 Space Adventures announces collaboration with SpaceX to send private citizens into orbit, on the Crew Dragon spacecraft.
Building on the success of Crew Dragon's first demonstration mission to the International Space Station in March 2019 and the recent successful test of the spacecraft's launch escape system, Space Adventures, Inc. has entered into an agreement with SpaceX to fly private citizens on the first Crew Dragon free-flyer mission. This will provide up to four individuals with the opportunity to break the world altitude record for private citizen spaceflight and see planet Earth the way no one has since the Gemini program.
Above: The Crew Dragon, which will be used to carry paying passengers into orbit.  Credit SpaceX
If interested parties are secured, this mission will be the first orbital space tourism experience provided entirely with American technology. Private citizens will fly aboard SpaceX's fully autonomous Crew Dragon spacecraft launched by the company's Falcon 9 rocket, the same spacecraft and launch vehicle that SpaceX will use to transport NASA astronauts to the International Space Station.
Gwynne Shotwell, President and Chief Operating Officer, SpaceX, said:
"This historic mission will forge a path to making spaceflight possible for all people who dream of it, and we are pleased to work with the Space Adventures' team on the mission."
Eric Anderson, Chairman, Space Adventures, said:
"Creating unique and previously impossible opportunities for private citizens to experience space is why Space Adventures exists. From 2001-2009 our clients made history by flying over 36 million miles in space on eight separate missions to the ISS. Since its maiden mission in 2010, no engineering achievement has consistently impressed the industry more than the Dragon/Falcon 9 reusable system. Honoring our combined histories, this Dragon mission will be a special experience and a once in a lifetime opportunity – capable of reaching twice the altitude of any prior civilian astronaut mission or space station visitor."
source Space Adventures