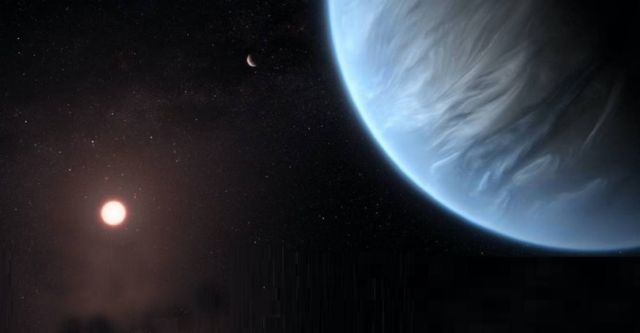 Astronomers have found  the star Kepler-160 and its companion KOI-456.04 are more reminiscent of the Sun-Earth system than any previously known exoplanet–star pair.
The star Kepler-160, about 90% the mass of the Sun, is probably orbited by a planet less than twice the size of the Earth with a star-planet distance that could permit planetary surface temperatures conducive to life.
Above: Star and Exoplanet.  Credit: ESA/Hubble, M. Kornmesser
The newly discovered exoplanet, which was found by a team of scientists led by the Max Planck Institute for Solar System Research (MPS) in Göttingen is more than just another potentially habitable world. One of the key properties making it resemble the Sun-Earth system more than any other previously known world, is its Sun-like host star. Most of the Earth-like exoplanets known so far are in orbit around a faint red dwarf star emitting their energy mostly as infrared radiation rather than as visible light. The light shed on KOI-456.04 by its Sun-like host star, however, is very much like the daylight seen on our home planet. Moreover, the orbital period of KOI-456.04 around its Sun-like star is almost identical to an Earth year.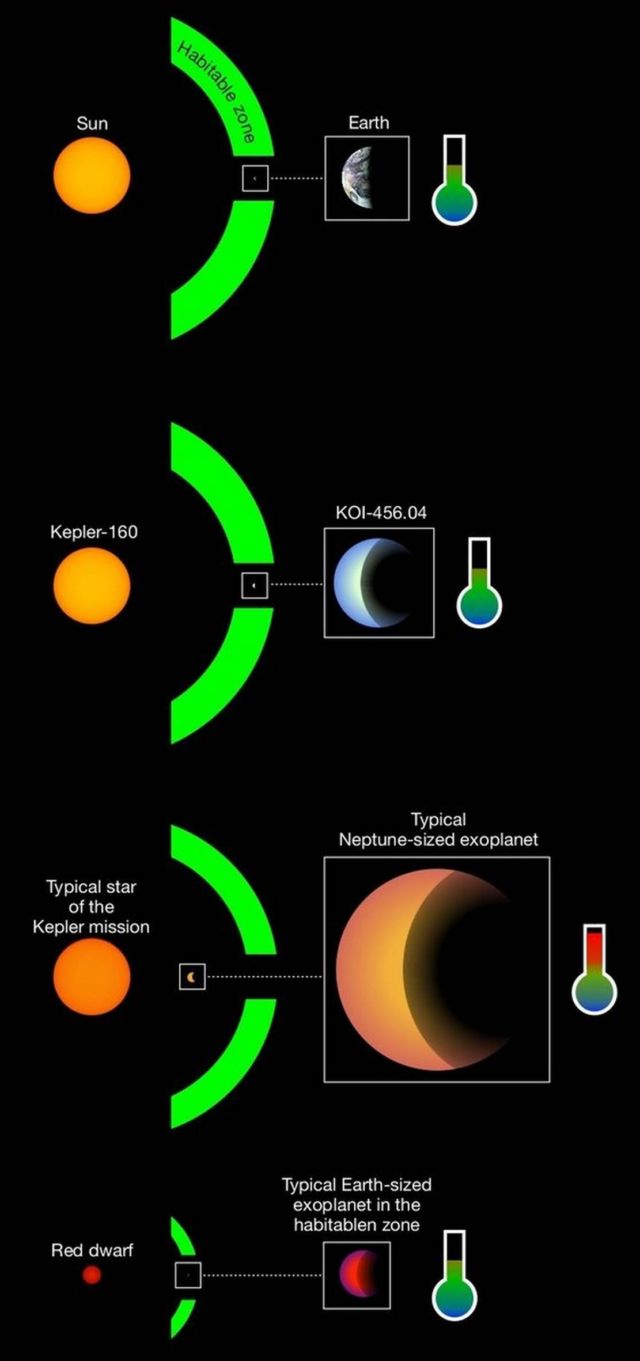 Most of the exoplanets from the Kepler mission are the size of Neptune and in relatively close orbits around their host stars, where temperatures on these planets would be far too hot for liquid surface water (third panel from above). Almost all of the Earth-sized planets known to have potentially Earth-like surface temperatures are in orbit around red dwarf stars, which do not emit visible light but infrared radiation instead (bottom panel).The Earth is in the right distance from the Sun to have surface temperatures required for the existence of liquid water. The newly discovered planet candidate KOI-456.04 and its star Kepler-160 (second panel from above) have great similarities to Earth and Sun (top panel).   Credit MPS / René Heller
source Max Planck Institute