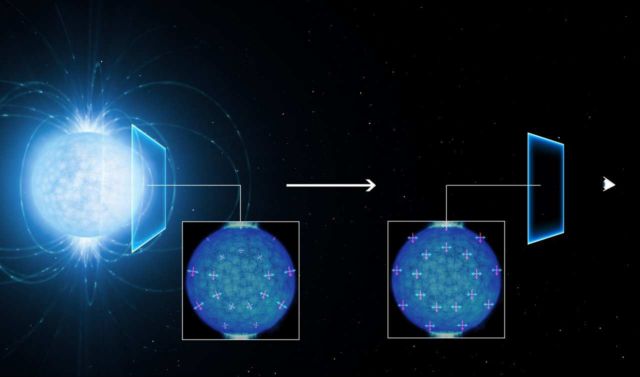 Astronomers observed for the first time a strange Quantum distortion in empty space.
By studying the light emitted from an extraordinarily dense and strongly magnetised neutron star using ESO's Very Large Telescope, astronomers may have found the first observational indications of a strange quantum effect, first predicted in the 1930s. The polarisation of the observed light suggests that the empty space around the neutron star is subject to a quantum effect known as vacuum birefringence.
Above, the polarisation of light emitted by a neutron star.  Credit ESO
A team led by Roberto Mignani from INAF Milan (Italy) and from the University of Zielona Gora (Poland), used ESO's Very Large Telescope (VLT) at the Paranal Observatory in Chile to observe the neutron star RX J1856.5-3754, about 400 light-years from Earth.
Neutron stars are the very dense remnant cores of massive stars — at least 10 times more massive than our Sun — that have exploded as supernovae at the ends of their lives. They also have extreme magnetic fields, billions of times stronger than that of the Sun, that permeate their outer surface and surroundings.
These fields are so strong that they even affect the properties of the empty space around the star. Normally a vacuum is thought of as completely empty, and light can travel through it without being changed. But in quantum electrodynamics (QED), the quantum theory describing the interaction between photons and charged particles such as electrons, space is full of virtual particles that appear and vanish all the time. Very strong magnetic fields can modify this space so that it affects the polarisation of light passing through it.
Mignani explains: "According to QED, a highly magnetised vacuum behaves as a prism for the propagation of light, an effect known as vacuum birefringence."
source ESO