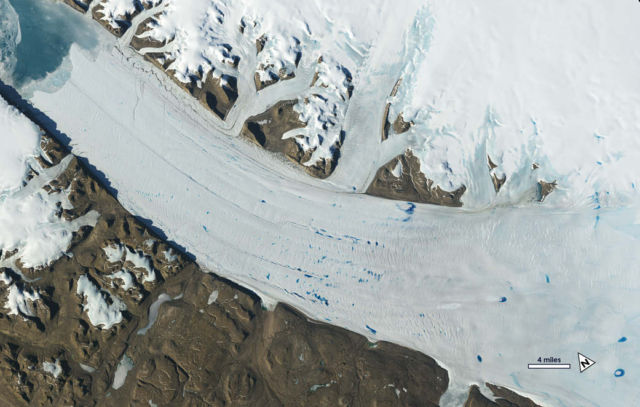 A new study finds that the number – and elevation – of meltwater lakes in Greenalnd is increasing. How do scientists know?
Meltwater lakes form on the surface of Greenland's Petermann Glacier, seen here in a June 2019 Landsat image.
Earth's glaciers and ice sheets as seen from space – some spanning nearly 50 years – are providing scientists with new insights into how the planet's frozen regions are changing.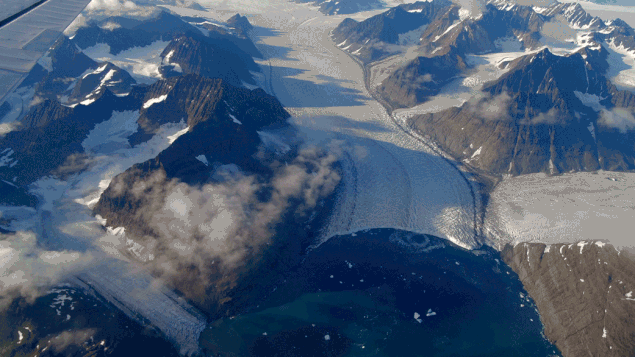 Images Credit: NASA/USGS
Editor: Yvette Smith
Mass Balance of the Greenland Ice Sheet From 1992 to 2018
These animations show the cumulative change in Greenland Ice Sheet thickness and the melting ice sheet's contribution to global sea level from 1992 to 2018, with projections through 2100. The projections were drawn from the 5th Assessment Report (AR5) by the United Nation's Intergovernmental Panel on Climate Change (IPCC).
IMBIE, or the Ice Sheet Mass Balance Inter-comparison Exercise, is an international collaboration between polar scientists from 50 scientific institutions supported by the European Space Agency and NASA.
Credit: University of Leeds/Planetary Visions/Technical University of Denmark
Learn More: Ice in Motion: Satellites Capture Decades of Change