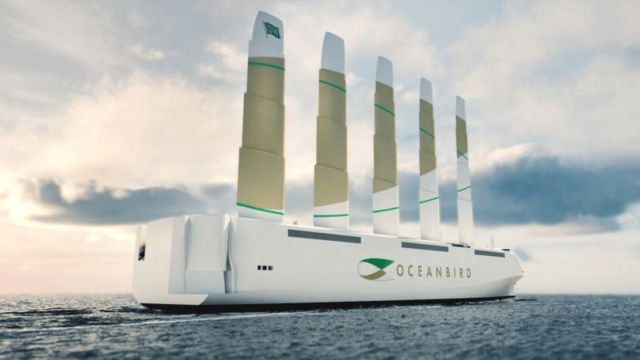 Swedish consortium unveils giant wind-powered car carrier, making the Atlantic crossing in 12 days, holding 6-7,000 cars.
Engine powered shipping took over transport across the world's oceans over one hundred years ago. Sailing ships can now be on the way back.
A Swedish consortium by Wallenius Marine and  KTH Royal Institute of Technology and SSPA, is developing wind-powered ocean going merchant ships of the future – almost entirely emission free.
The 200-meter-long modern sailing carrier with five 80-meter upright "wing sails," capable of carrying 6-7,000 vehicles, aims to start traveling by 2025.
The shipping industry, which handles around 90 percent of world freight today, accounts for two percent of global carbon dioxide emissions.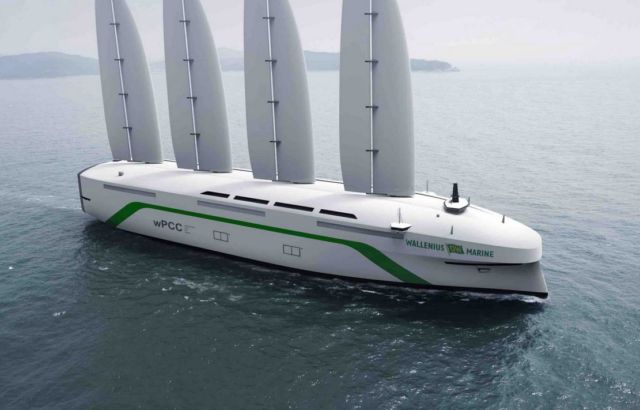 SSPA explains:
"In the research project wPCC (wind Powered Car Carrier) we will develop a wind-powered vessel from concept to a technical and financially viable design ready to be built within 3-5 years. This project aims to pave the way for a paradigm shift in maritime transport by demonstrating that this new transport concept is possible even in the near future. We do not necessarily need to wait until 2050 to reach IMO's goal of 50% reduction of greenhouse gases."
"We are going much further and aiming for a reduction of 80-90 percent," says Jakob Kuttenkeuler, a Professor at the KTH Centre of Naval Architecture.