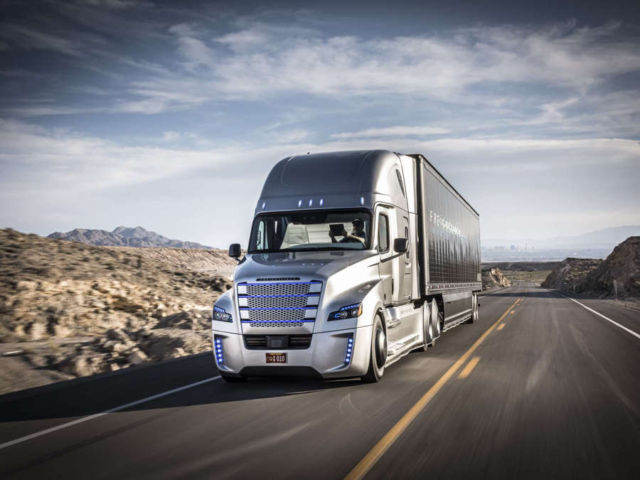 The Freightliner Inspiration Truck, using radar, cameras and advanced sensors, is the first licensed autonomous commercial truck to operate on an open public highway in the United States.
The autonomus Freightliner Inspiration Truck combines the latest technological developments, already deployed in today's modern on-highway trucks, with exciting breakthroughs in safety and connectivity.
This will reduce highway congestion and improve the environment.
"Nevada is proud to be making transportation history today by hosting the first U.S. public highway drive for a licensed autonomous commercial truck. The application of this innovative technology to one of America's most important industries will have a lasting impact on our state and help shape the New Nevada economy" said Gov. Sandoval. "The Nevada Department of Motor Vehicles has been closely monitoring the advancements being made in autonomous vehicle development and reviewed DTNA's safety, testing and training plans before granting permission for this demonstration of the Freightliner Inspiration Truck."
"The autonomous vehicle technology we are showcasing in the Freightliner Inspiration Truck will help reduce accidents, improve fuel consumption, cut highway congestion, and safeguard the environment," said Dr. Bernhard. "Daimler Trucks North America is committed to developing the latest technology to meet our customers' needs and delivering the best commercial trucks in the world. We are proud to get this vehicle on the road here today."
Read more at freightlinerinspiration