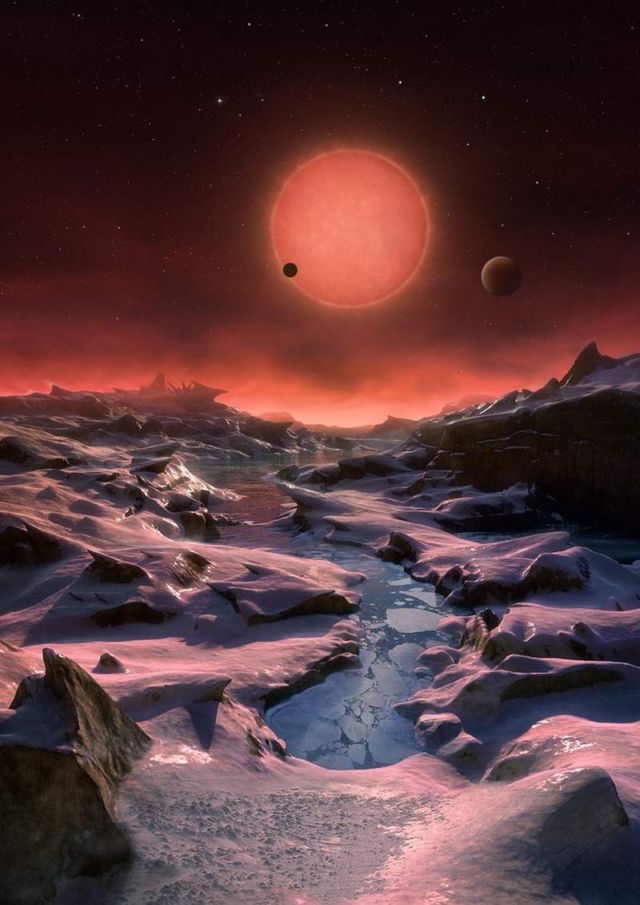 Three potentially habitable worlds found around nearby ultracool dwarf star, the best place to search for life beyond the Solar System.
Astronomers using telescopes at ESO's observatories in Chile have discovered three planets around a dim dwarf star just 40 light-years from Earth.
Above:   Credit: ESO/M. Kornmesser
These worlds have sizes and temperatures similar to those of Venus and the Earth, and they are the best targets so far found in the hunt for life elsewhere in the Universe. They are the first planets ever discovered around such a tiny and dim star.
A team of astronomers led by Michaël Gillon, of the Institut d'Astrophysique et Géophysique at the University of Liège in Belgium, have used the Belgian TRAPPIST telescope to observe the star 2MASS J23062928-0502285, now also known as TRAPPIST-1. They found that this dim and cool star faded slightly at regular intervals, indicating that several objects were passing between the star and the Earth. Detailed analysis showed that three planets with similar sizes to the Earth were present.
Emmanuël Jehin, a co-author of the new study, is excited:
"This really is a paradigm shift with regards to the planet population and the path towards finding life in the Universe. So far, the existence of such 'red worlds' orbiting ultra-cool dwarf stars was purely theoretical, but now we have not just one lonely planet around such a faint red star but a complete system of three planets!"
Michaël Gillon, lead author of the paper presenting the discovery, explains the significance of the new findings:
"Why are we trying to detect Earth-like planets around the smallest and coolest stars in the solar neighbourhood? The reason is simple: systems around these tiny stars are the only places where we can detect life on an Earth-sized exoplanet with our current technology. So if we want to find life elsewhere in the Universe, this is where we should start to look."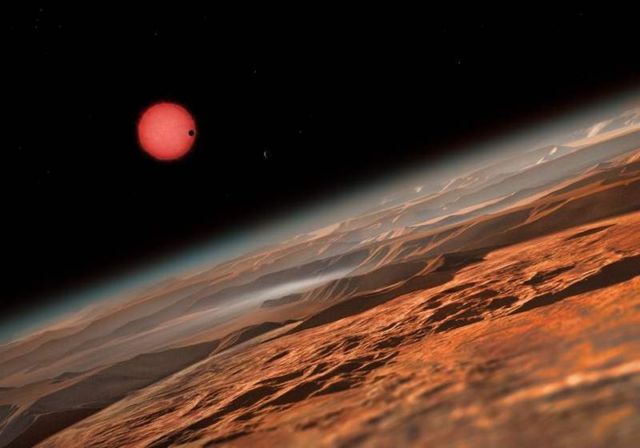 In this view one of the inner planets is seen in transit across the disc of its tiny and dim parent star.  Credit: ESO/M. Kornmesser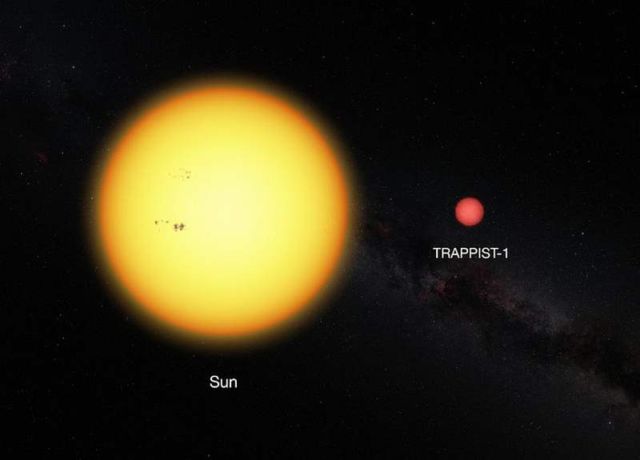 This picture shows the Sun and the ultracool dwarf star TRAPPIST-1 to scale. The faint star has only 11% of the diameter of the sun and is much redder in color.  Credit: ESO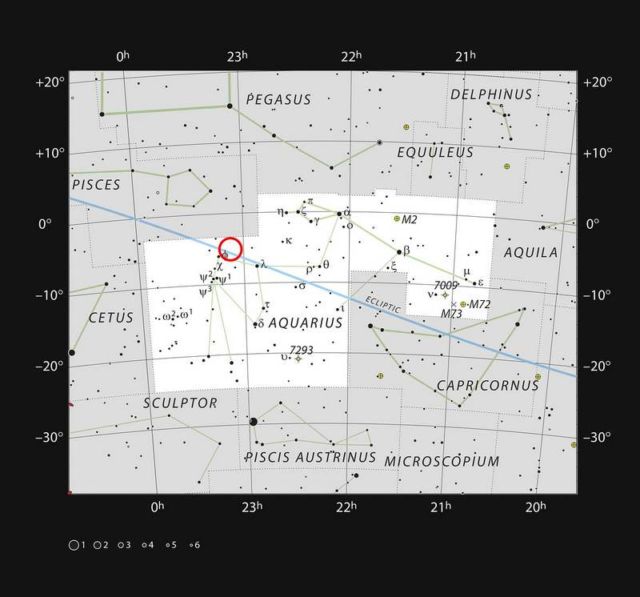 This chart shows the naked eye stars visible on a clear dark night in the sprawling constellation of Aquarius (The Water Carrier). The position of the faint and very red ultracool dwarf star TRAPPIST-1 is marked.   Credit: ESO/IAU and Sky & Telescope
More information at eso.org