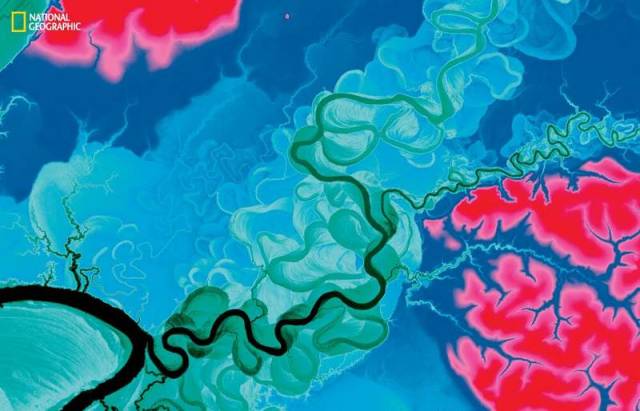 Satellite and airborne sensors won't cure the Earth. But they promise the clearest picture yet of its various ailments.   Image credit Gregory Asner/Carnegie Institution for Science/National Geographic

Ecologist Greg Asner and his team at the Carnegie Institution for Science can measure the biomass of a forest from the air. In this false-color video of Amazon rain forest in Peru, the biggest, heaviest trees are red, while yellow, green, and blue trees are progressively lighter. Carnegie's research aircraft is equipped with a scanning lidar—a laser ranging device that works like radar—and imaging spectrometers.
Above: An image of the Tambopata River in eastern Peru made by the scanning lidar aboard the Carnegie observatory.The area in this image is actually covered with rain forest. Some lidar pulses penetrate the forest and reflect off the ground, revealing the subtle topography—red is a few feet higher than blue—and faint, abandoned river channels that have shaped the forest and helped create its rich biodiversity.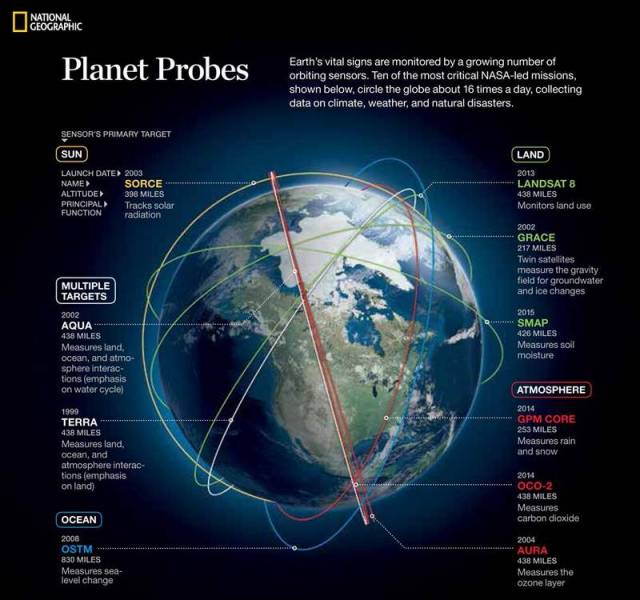 Planet Probes
Earth's vital signs are monitored by NASA's 19 Earth-observing missions. Ten of the most critical, shown here, circle the globe up to 16 times a day, collecting data on climate, weather, and natural disasters.
MONICA SERRANO, NGM STAFF; TONY SCHICK/National Geographic
SOURCE: STEVEN E. PLATNICK AND CLAIRE L. PARKINSON, NASA GODDARD SPACE FLIGHT CENTER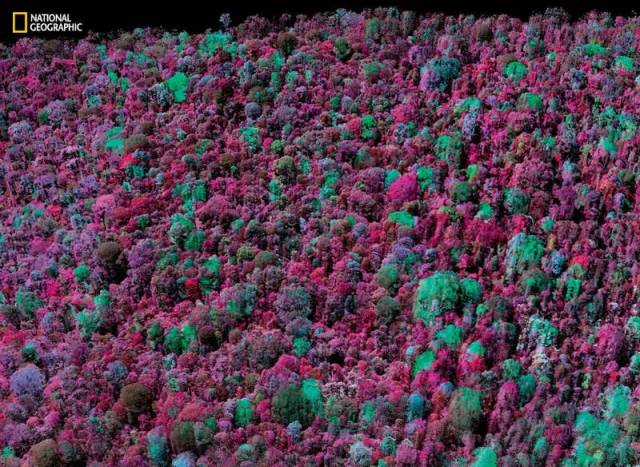 The Carnegie Airborne Observatory made this image of rain forest in Panama with its scanning lidar, which probes the trees' size and shape, and a spectrometer that charts their chemical composition.
The technique allows Asner's team, flying at 7,000 feet, to identify individual trees from their chemical signatures—and even to say how healthy they are. The reddish trees here (the colors are arbitrary) are growing the fastest and absorbing the most CO₂.
PHOTOGRAPH BY GREGORY ASNER, CARNEGIE INSTITUTION FOR SCIENCE/National Geographic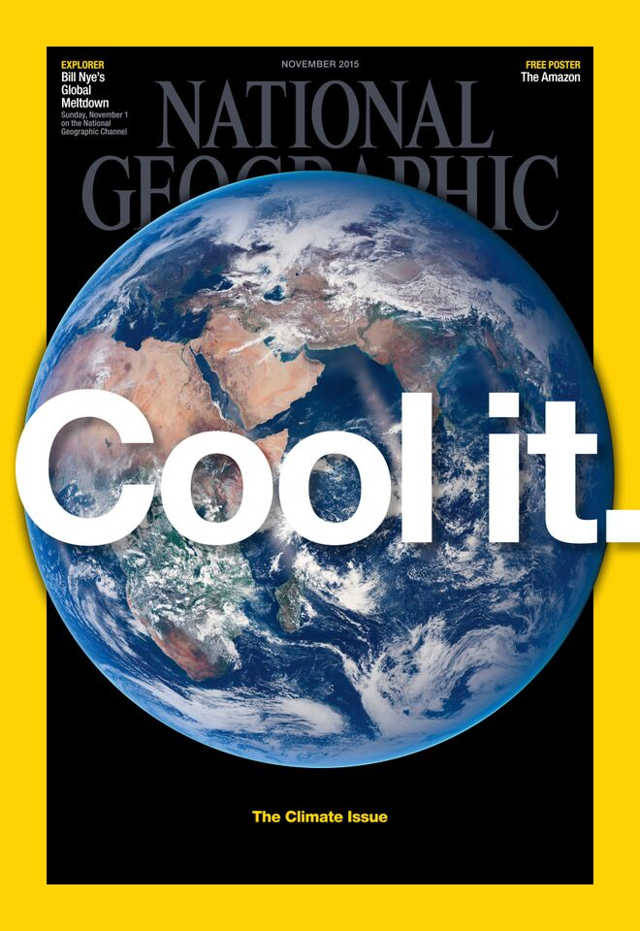 Image credit National Geographic
The images are from the November issue of National Geographic magazine.
source National Geographic