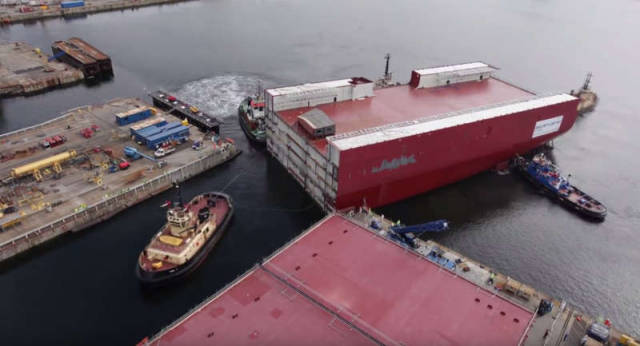 The largest section of the second Queen Elizabeth Class aircraft carrier welcomed at the Aircraft Carrier Alliance, following its voyage from BAE Systems in Glasgow where it was built.  Watch the transportation timelapse…

Lower Block 04 is the largest hull section of HMS Prince of Wales, the second of two new aircraft carriers being constructed by the Aircraft Carrier Alliance, and contains the hangar, machinery space, mission systems compartments and accommodation.
The 11,200 tonne section of hull was transported by a sea-going barge and traveled around the north coast to reach the assembly site, a journey of more than 600 miles over five days.
On her arrival, the block was floated off of the specialist barge and moved into position in dry dock, ready to join the other sections already in place.
The aircraft carriers HMS Queen Elizabeth and HMS Prince of Wales are being delivered by the Aircraft Carrier Alliance, a partnering relationship between BAE Systems, Thales UK, Babcock and the Ministry of Defense.