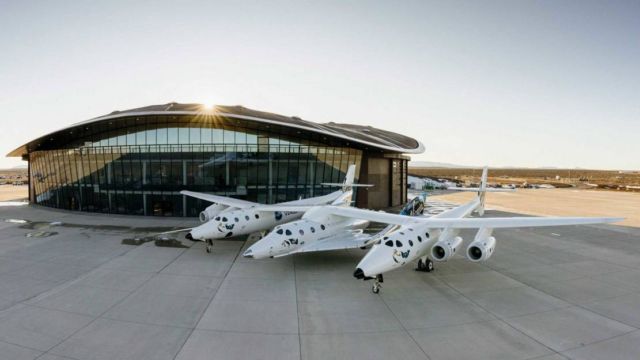 Virgin Galactic has successfully relocated SpaceShipTwo, VSS Unity, to its commercial headquarters at Spaceport America's Gateway to Space building, in New Mexico.
VSS Unity, attached to the carrier aircraft, VMS Eve, made the journey from Mojave, California, where the Company's manufacturing facilities are based. The vehicle landed at 15:49MT, where it was greeted by an enthusiastic group of teammates who will operate the spaceship in New Mexico.
This captive carry flight provided an opportunity for engineers to evaluate VSS Unity for over three hours at high altitude and cold temperatures, a longer period of time than is experienced during missions to space. These environmental evaluations of system performance are difficult to replicate at ground level, making captive carry missions a vital component of VSS Unity's flight test plan.
"New Mexico is going to be the world's launchpad for commercial spaceflight," New Mexico Gov. Michelle Lujan Grisham said. "Today marks another step closer: We will have a genuine Space Valley in Southern New Mexico, a hotbed of innovation and achievement and space tourism development. I congratulate Virgin Galactic's workers, George Whitesides and Sir Richard Branson on today's successful flight – and once again I say to them: Welcome to New Mexico, we're very glad to have you!"
Images credit Virgin Galactic
source Virgin Galactic