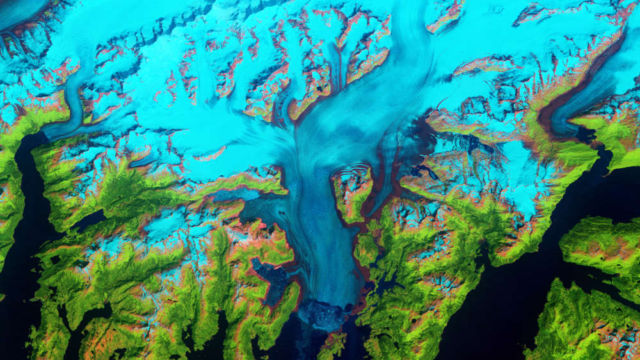 The Columbia Glacier in southeastern Alaska, is one of the most rapidly changing glaciers in the world.
It descends from an ice field 10,000 feet (3,050 meters) above sea level, down the flanks of the Chugach Mountains, and into a narrow inlet that leads into Prince William Sound.
Changes to the Columbia Glacier were tracked over more than 30 years using data from Landsat 4, 5, 7, and 8 data.
It is a large tidewater glacier, flowing directly into the sea. When British explorers first surveyed it in 1794, its nose—or terminus—extended south to the northern edge of Heather Island, a small island near the mouth of Columbia Bay. The glacier held that position until 1980, when it began a rapid retreat that continues today.
False-color images, captured by Landsat satellites, show how the glacier and the surrounding landscape has changed since 1986.
Image credit NASA/USGS/Landsat/Jesse Allen and Robert Simmon