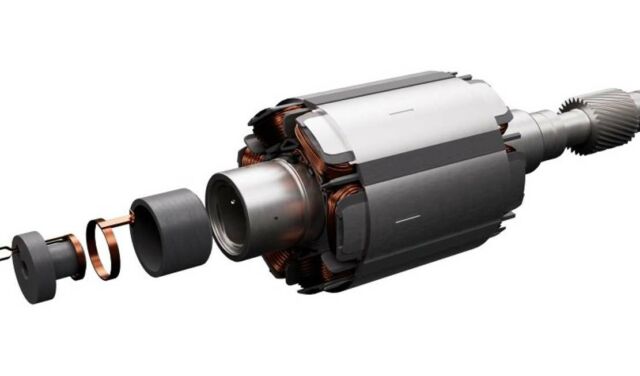 ZF new compact magnet-free electric motor is a sustainable and robust alternative to common e-drives.
ZF has developed an electric motor that does not require magnets. An inductive current transmission unit inside the rotor enables ultra-compact electric motor design.
No magnets or rare earth materials, increased security of supply, and better sustainability and efficiency.
Friedrichshafen, Germany.  In contrast to the magnet-free concepts of so-called separately excited synchronous motors (SESM) already available today, ZF's I2SM (In-Rotor Inductive-Excited Synchronous Motor) transmits the energy for the magnetic field via an inductive exciter inside the rotor shaft. This makes the motor uniquely compact with maximum power and torque density.
This advanced variant of a separately excited synchronous motor is thus an alternative to permanent-magnet synchronous machines (PSM). The latter are currently the motors most frequently used in electric vehicles, but they are based on magnets which require rare earth materials for their production. With the I2SM, ZF is setting a new standard for making e-motors both extremely sustainable in production and highly powerful and efficient in operation.
Dr. Holger Klein, CEO of ZF, said:
"With this magnet-free e-motor without rare earth materials, we have another innovation with which we are consistently improving our electric drive portfolio to create even more sustainable, efficient and resource-saving mobility. This is our guiding principle for all new products. And we currently see no competitor that masters this technology as well as ZF." Compared to common SESM systems, the inductive exciter can reduce losses for the energy transmission into the rotor by 15 percent. In addition, the CO2 footprint in production, which arises with PSM e-motors in particular due to magnets including rare earth materials, can be reduced by up to 50 percent.
Image credit ZF
source ZF Friedrichshafen