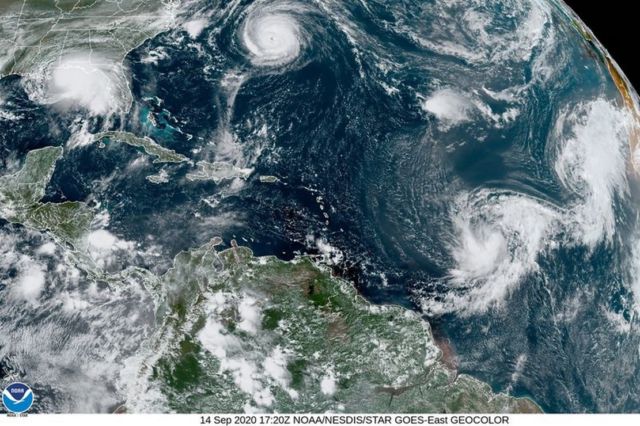 For the 2nd time in history, satellite image shows 5 Cyclones in the Atlantic Ocean at the same time.
Above: A satellite image showing 5 tropical cyclones churning in the Atlantic basin on Monday, September 14, 2020.  Image credit NOAA.
For the 2nd time on record, the Atlantic has 5+ tropical cyclones (tropical depression (TD) or stronger) simultaneously: #Hurricane #Paulette, TD #Rene, Tropical Storm #Sally, Tropical Storm #Teddy and TD21. Other time was from September 11-14, 1971. pic.twitter.com/9ET1OoxE6f

— Philip Klotzbach (@philklotzbach) September 14, 2020
More at at the National Hurricane Center
NASA Image Shows Fires, Hurricanes Across the U.S.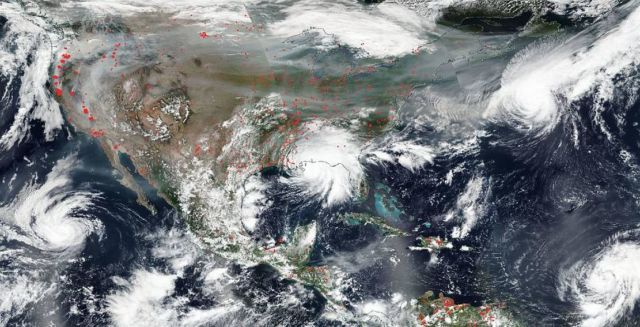 NASA's Aqua satellite captured this true-color image of the United States on Sep. 15, 2020, showing the fires in the West, the smoke from those fires drifting over the country, several hurricanes converging from different angles, and Hurricane Sally making landfall. Red points in the west note areas that are significantly higher in temperature than the areas around it and are indicative of fires.
Credit: NASA Worldview, Earth Observing System Data and Information System.