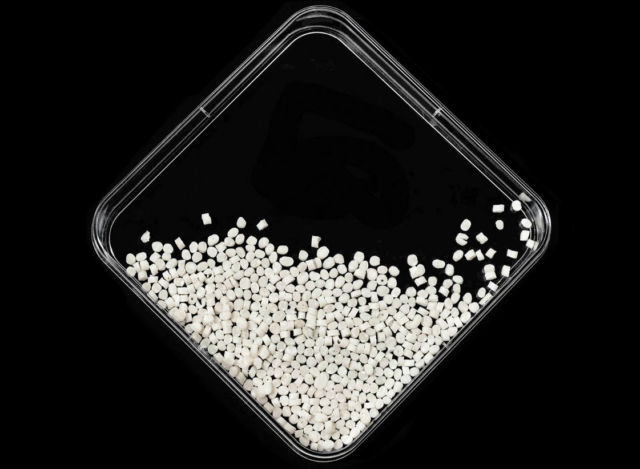 A new type of plastic made of reclaimed waste readily degrades in less than 12 months.
The substance that will soon serve to manufacture and break down mainly disposable products in an ecofriendly way goes by the name of polyhydroxybutyrate.
Developed by the Fraunhofer Institute for Production Systems and Design Technology IPK and its partners, this innovative material can be produced on an industrial scale in a new process.
Everyday life devoid of plastics – that would be hard to imagine. They figure prominently in packaging and consumer goods, and are indispensable to industry applications such as automotive and medical engineering. Reuse and recycling of plastics from fossil resources is hardly common practice.
The need for global recycling strategies is urgent, given plastics' heavy use all over the world. More and more governments are resorting to bans to curb the swelling tide of plastic waste. A viable option to replace fossil-based plastics on a large scale has yet to be found.
This is why the German Federal Ministry of Education and Research (BMBF) launched the "Bioökonomie International" (Bioeconomy International) research initiative in close cooperation with Fraunhofer IPK, the Department of Bioprocess Technology of the Technical University of Berlin, regional industrial partners and international research partners from Malaysia, Columbia and the USA. These researchers are developing a method of manufacturing polymers without drawing on premium resources such as mineral, palm and rapeseed oils, the production of which is very detrimental to the environment.
A new plastic much like polypropylene. This new process turn industrial leftovers such as waste fats that contain a lot of mineral residue into polyhydroxybutyrate (PHB). Microorganisms can metabolize these residues in special fermentation processes. They deposit the PHB in their cells to store energy.
Christoph Hein, head of the Microproduction Technology department at Fraunhofer IPK, said:
"Once the plastic has been dissolved from the cell, it is still not ready for industrial use, because the hardening process takes far too long."
Image:  Compounded and granulated polyhydroxybutyrate (PHB).  Credit Fraunhofer IPK/Andy King
source Fraunhofer