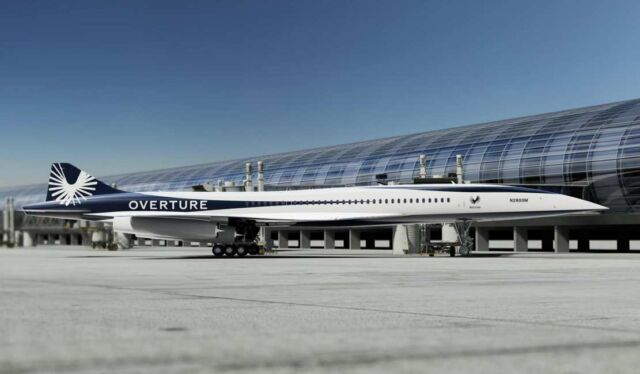 Boom Supersonic the company building the world's fastest airliner, announces significant Overture systems configuration.
Boom Supersonic announced at the Paris Air Show significant advances on Overture, its sustainable supersonic aircraft, including milestones for its Symphony™ engine.
Overture will fly at twice the speed of today's airliners and is designed to run on 100% sustainable aviation fuel (SAF).
Boom signed structural supplier agreements with Aernnova for Overture's wings, Leonardo for the fuselage and wing box, and Aciturri for the empennage. The three aerospace leaders join Boom's growing network of global suppliers which includes Safran Landing Systems, Eaton, Collins Aerospace, Flight Safety International, FTT, GE Additive, and StandardAero. Boom also revealed today, for the first time, Overture's full systems configuration as the aircraft program advances toward production.
"We are incredibly proud of the progress with Overture and Symphony from our global team of partners and suppliers who continue to operate at an accelerated pace toward the future of sustainable supersonic flight," said Blake Scholl, founder, and CEO of Boom Supersonic.
Boom's commercial order book stands at 130 aircraft, including both orders and pre-orders from major airlines such as United, American, and Japan Airlines. Boom continues to advance with Northrop Grumman on a defense variant of Overture that will expand the total addressable market for supersonic aircraft.
source Boom Supersonic