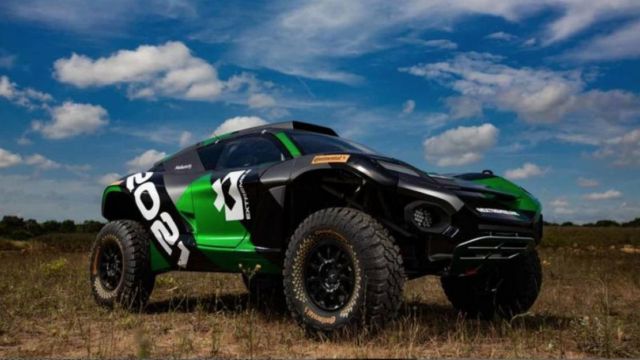 Extreme E racing electric SUV revealed at Goodwood, will race across glaciers and deserts.
The Extreme E Odyssey 21 is a monster EV designed for a new motorsport, with 550hp output.
From the press release:
Adding to the plethora of world debuts and first looks at the 2019 Festival of Speed presented by Mastercard, Friday morning saw the arrival of yet another exciting piece of technology, as Extreme E unveiled their new electric SUV named ODYSSEY 21.
We bring electric racing to some of the most remote corners of the planet to highlight the climate change challenges faced by different ecosystems, whilst showcasing the performance of all-electric SUVs in extreme conditions. Extreme E is a competitive platform for accelerating the development of electric vehicles, to help create a low-carbon future powered by renewable energy. We are committed to supporting and partnering with organisations working to restore the degraded environments in which we race, the precious ecosystems within them and the people who live there. Above all, we hope to raise awareness and inspire action to encourage every individual to come together and play their part to safeguard the future of the Earth and all its inhabitants.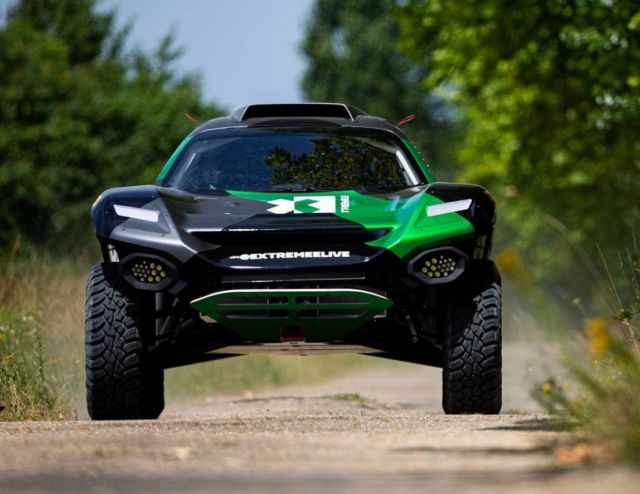 If you've not heard of Extreme E, we'd wager it won't be long until you do. It's a radical new racing series, which will see electric SUVs competing in extreme environments around the world. All of which have been damaged or affected by climate and environmental issues.
The five-race global series – operated in associated with Forumla E – hopes to highlight the impact of climate change and human interference in some of the world's most fragile ecosystems whilst promoting the adoption of electric technology for the good of the planet.
Founder Alejandro Agag and Chairman Gil de Ferran were on hand for covers off, and once the unveil was complete, it was immediately evident that this is no ordinary SUV. It's as if the designers looked at their children's coolest off-road RC cars, brought them into the office, and simply said: 'Let's make one of these, but adult size'.
A futuristic looking chassis, raised suspension and massive off-road wheels and continental tyres, the ODYSSEY 21 is a burly package of fun. It wouldn't look out of place in the Xbox game HALO. Everyone here has a smile on their face, and that's just looking at it. Driving the thing in extreme landscapes will surely cause all sorts of pleasure-induced trouble.
Especially true when you consider the car's peak 400kw (550hp) output is capable of propelling the 1,650kg, 2.3-metre wide vehicle from 0-62mph in 4.5 seconds. Oh, and that's at gradients of up to 130 percent(!).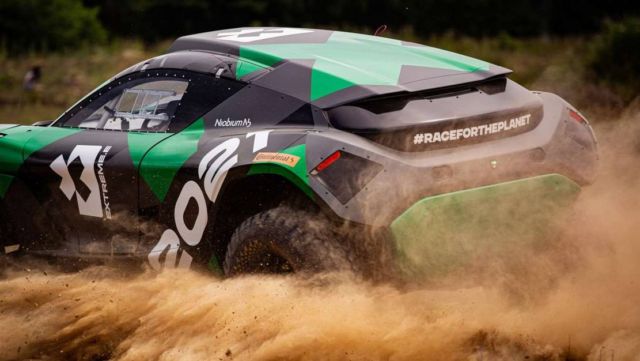 Built from a common package of standardised parts, manufactured by Spark Racing Technology with a battery produced by Williams Advanced Engineering, the Extreme E off-roader encompasses a niobium-reinforced steel alloy tubular frame, as well as crash structure and roll cage, whilst tyres – for both extreme winter and summer requirements – will be supplied by founding partner Continental Tyres.
From that starting point, teams will be able to test and develop their own powertrain and select areas of bodywork, such as engine cover, front and rear bumpers, side skirt, and lights in a bid to replicate everyday car models.
Not content with a static display, the ODYSSEY 21 also completed demonstration runs up the Goodwood hillclimb following the unveiling. A fantastic achievement considering the full build of the prototype was completed only last week at the Spark factory in Tigery, France.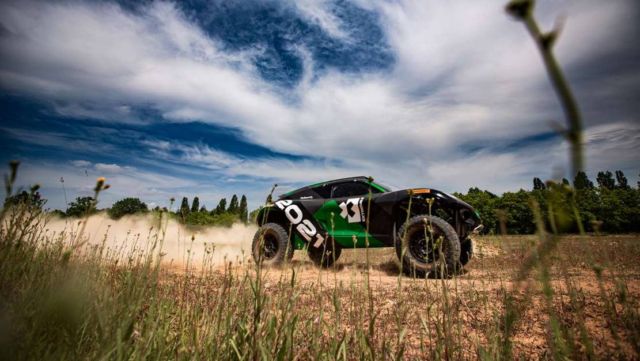 source Extreme E