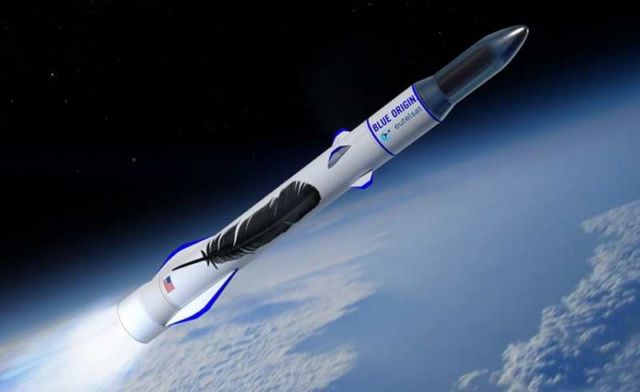 Jeff Bezos' Blue Origin heavy-lift orbital rocket has its first customer, in multi-billion space battle with Elon Musk's SpaceX.
The reusable 'New Glenn' Blue Origin's 3-stage, 313 feet tall and 23 feet in diameter rocket, expected to blast off with France's Eutelsat as first customer, in 2021.
Above, New Glenn megarocket.  Credit Blue Origin
New Glenn will be able to land on a drone ship, like SpaceX's Dragon.
Eutelsat Communications announced at the Satellite 2017 Convention in Washington D.C. the conclusion of a contract with Blue Origin for a launch on the New Glenn rocket that is expected to initiate flights in 2020.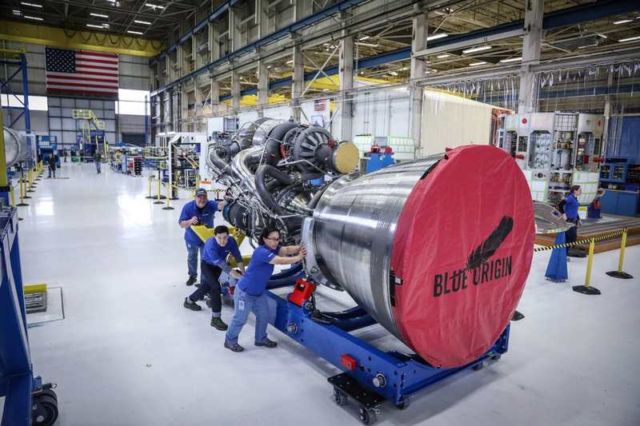 The BE-4 engine will be one of seven powering the New Glenn rocket.   Credit Blue Origin
The new partnership with Blue Origin reflects Eutelsat's longstanding strategy to source launch services from multiple agencies in order to secure access to space and partner with launch agencies that combine the highest levels of performance, flexibility and competitiveness.




1st #NewGlenn customer in the books. We can't wait to take you to space @Eutelsat_SA! https://t.co/CuvokoMTua

— Blue Origin (@blueorigin) March 7, 2017
The agreement with Blue Origin covers the launch of a geostationary satellite in the 2021-2022 timeframe. The New Glenn launcher will be compatible with virtually all Eutelsat satellites, giving flexibility to allocate the mission 12 months ahead of launch.