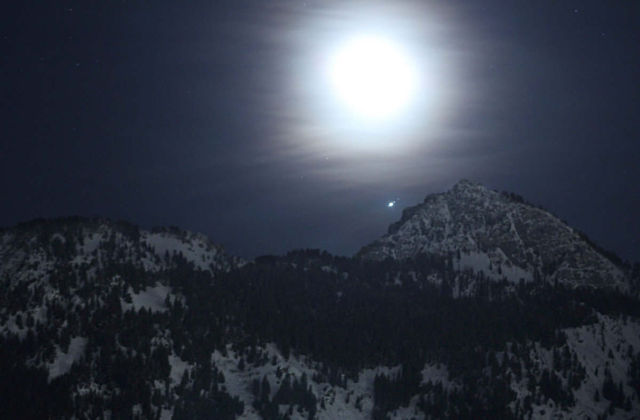 The 'full cold moon' of December, the final one of this decade, arrives tonight just 12 minutes after midnight EST.
The full moon will reach its peak in the Eastern United States at exactly 12:12am and will be nearly full when the Geminid meteor shower starts on Friday.
The Moon will be full just after midnight on Thursday morning, Dec. 12, 2019, appearing "opposite" the Sun (in Earth based longitude) at 12:12 AM EST. The Moon will appear full for about three days centered on this time, from Tuesday evening through Friday morning.
According to numerologists "number 12 is an important one since it signifies completion."
Above: The Moon, lost in haze, rises over the Wasatch Mountains near Salt Lake City in February 2019. The planet Jupiter can be seen nearby, along with three of its moons.  Credit: NASA/Bill Dunford
source NASA