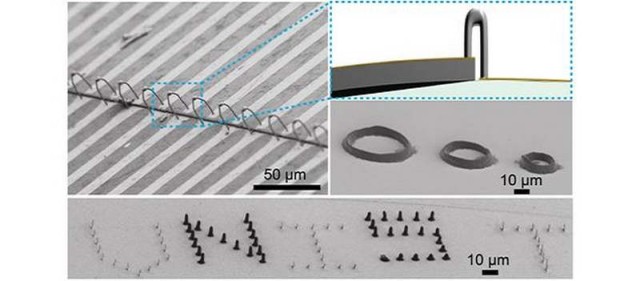 A new high-res 3D printing technique capable of producing ultra-fine 3D patterns, thinner than a red blood cell.
Images credit UNIST
A team of researchers at South Korea's UNIST, announced that they may have developed a high-resolution 3D printing technology that is capable of producing flexible, bendable, or curved electronic circuits.
They say that the technology can print a variety of fine patterns with high aspect ratios (greater than ≈50) and narrow diameters (≈0.7 μm).

Schematic illustration of bridge-like Ag structures on a flexible substrate.
According to the team, led by Prof. Jang-Ung Park (School of Materials Science and Engineering) at UNIST, this method is capable of producing affordable high-resolution 3D patterns at room temperature. Moreover, these printed 3D patterns are as small as 0.001 millimeter in size, which is even thinner than a red blood cell.
source UNIST