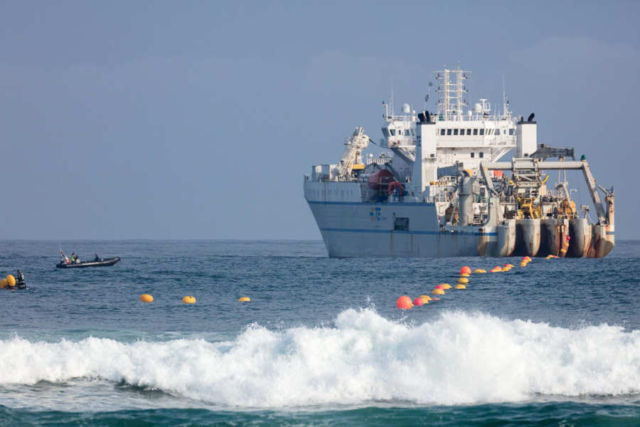 Microsoft and Facebook's massive undersea data cable installation, supporting data speeds of 160 terabytes per second, is complete.
The installation of Microsoft and Facebook's massive undersea data cable that started last year, connecting Virginia Beach to the northern city of Bilbao in Spain, is now completed.
Above, crews began installing the cable last year.  via Microsoft/RUN Studios
Lying more than 17,000 feet below the ocean's surface, Marea is the most technologically advanced subsea cable to cross the Atlantic Ocean, and the first cable to connect Virginia and Spain.
Recognizing a need for greater resiliency for networks across the Atlantic, Microsoft, Facebook and Telxius pursued the creation of Marea along a route south of existing transatlantic cable systems. Being physically separate from the other cables helps ensure more resilient and reliable connections for customers in the United States, Europe and beyond.
The Marea cable's new "open" design allows it to evolve with technology, ensuring the highest performance for users now and well into the future, even as the global population of internet users grows. And make no mistake, the demand is growing. Just think of the many high-bandwidth applications and content you use today such as Skype and Facebook Live, and the volume of streaming videos, movies and music consumed daily. This ability to interoperate with many different kinds of networking equipment brings significant benefits including lower costs and easier equipment upgrades, leading to faster growth in bandwidth rates.
source Microsoft