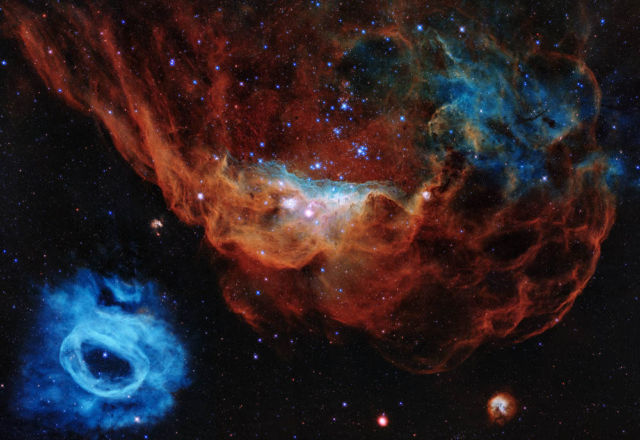 NASA is celebrating the Hubble Space Telescope's 30 years of unlocking the beauty and mystery of space by unveiling a stunning new portrait of a firestorm of starbirth in a neighboring galaxy.
In this Hubble portrait, the giant red nebula (NGC 2014) and its smaller blue neighbor (NGC 2020) are part of a vast star-forming region in the Large Magellanic Cloud, a satellite galaxy of the Milky Way, located 163,000 light-years away. The image is nicknamed the "Cosmic Reef," because it resembles an undersea world.
Hubble's 30th Anniversary Image
On April 24, 2020, the Hubble Space Telescope celebrates its 30th year in orbit by premiering a never-before-seen view of two beautiful nebulas named NGC 2020 and NGC 2014.
Pay a visit to the Hubble Space Telescope in its orbit above Earth's surface and take a tour of the technology behind Hubble's spectacular cosmic images. This 360 degree video points out Hubble's instruments, mirrors, and other major components, and explains their purpose.
source NASA