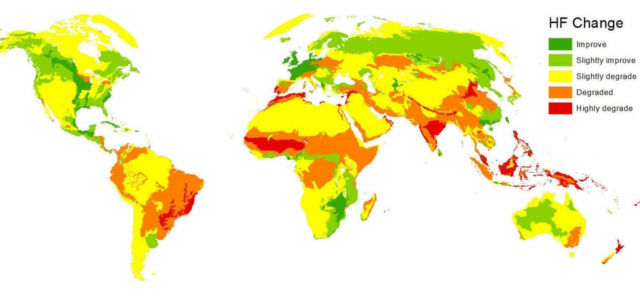 Take a look at this map showing human's growing impact on the Planet.
According to scientists, the impact humans have on the environment, has grown dramatically in the last 16 years.
Above, the map shows where in our planet humans' impact on the environment increased, or decreased from 1993 to 2009.  Credit Oscar Venter.
Study's lead author, forest conservation scientist Oscar Venter of the University of Northern British Columbia, said to National Geographic:
"We thought the timing was right to get a better understanding of where the last wild places on the planet are and how those places have contracted over the last two decades and how the footprint has expanded into them.
When we looked at the most species-rich parts of the planet, the biodiversity hotspots, previously we thought about 15 percent of
[their extent] was still natural. But our map of the human footprint showed actually only 3 percent of biodiversity hotspots are still natural. This is really important because this is the most biologically valuable real estate on the planet. This is where we have unusually high concentrations of species that you just don't see anywhere else.
I think looking at the parts of the planet that are still wild and finding ways of keeping them as they are, keeping them free of humans, should be something that we're really thinking about."
source NatGeo