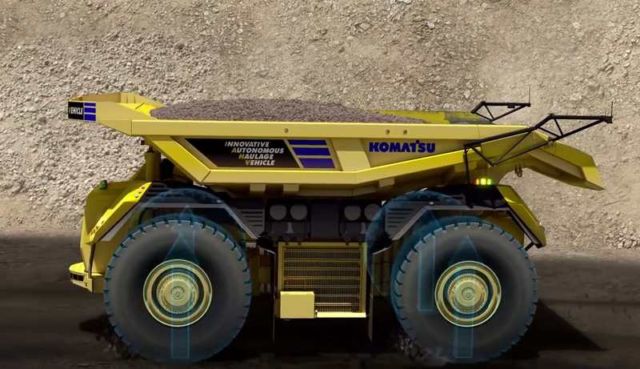 Komatsu develops Innovative Autonomous Haulage vehicle, that has no front or back.
Komatsu unveil the "Innovative Autonomous Haulage Vehicle" featuring a cabless structure at MINExpo International 2016 in Las Vegas, U.S.A.
This unmanned vehicle designed to maximize the advantages of unmanned operation.
Komatsu plans a market introduction in the near future. By distributing equal load to the four wheels both when the vehicle is loaded and unloaded, and adopting four-wheel drive, retarder and steering.
In particular, the company expects that this new vehicle will considerably improve the productivity at mines where existing unmanned haulage vehicles face challenging conditions, such as slippery ground due to frequent rain/snow fall as well as confined spaces for loading.
Komatsu has led the world by commercializing Autonomous Haulage System (AHS) in 2008.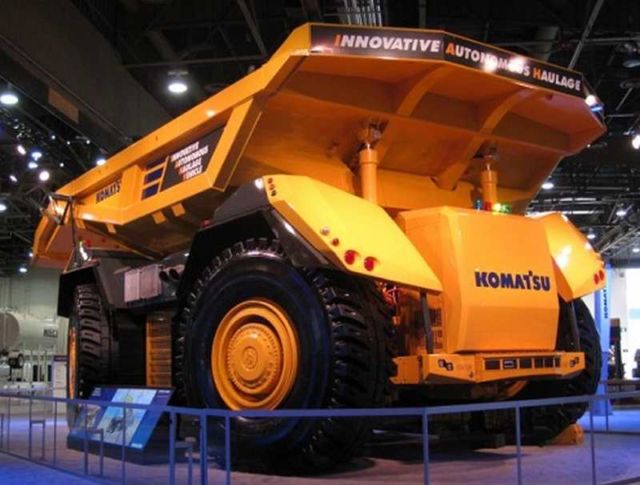 Nominal Gross Vehicle Weight: 416 metric tons
Nominal Payload: 230 metric tons
Gross power output: 2014kW (2700HP)
Maximum Speed: 64Km/h
Turning Radius: 15.9m
Total Length: 15m
Total Width: 8.5m
Tire Size: 59/80R63
via gizmodo
source Komatsu