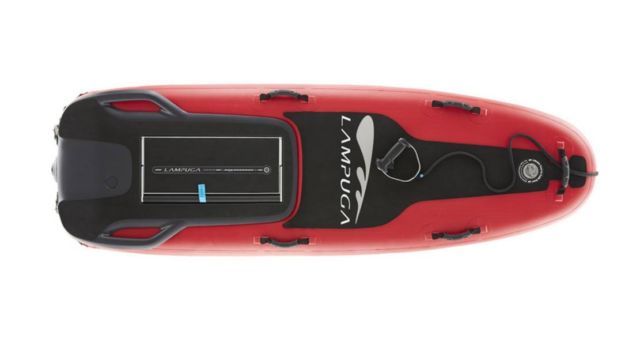 Lampuga inflatable jetboard it's easy to transport, easy to inflate, easy to ride.
Lampuga jetboard is using cutting edge electric technology. All the electric surboards utilize the same technology, while they perform slightly differently due to their material and shape. The Lampuga Air and Lampuga Rescue utilize a robust drop-stich material and are both inflatable, while the Lampuga Boost has a carbon body designed for minimal water resistance.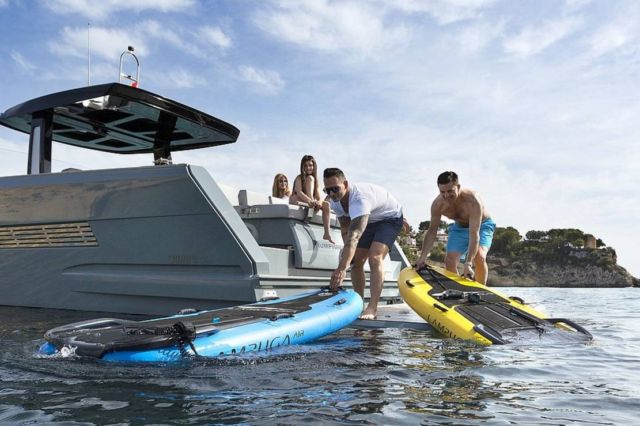 The Lampuga surfboards are powered by a lithium-ion battery with a capacity of 3.7 kWh. Depending on the driving style, weight, experience level and on the weather conditions, the battery allows for a ride up 45 minutes. Utilizing a plug-and-play battery system, the battery is both re-chargeable and removable, allowing for an effortless re-charge or battery change. Using a 230-volt outlet, it takes the battery approx. 100-120 minutes to get fully charged. The battery is equipped with a LED display located on its top side, which displays the charging state of the battery.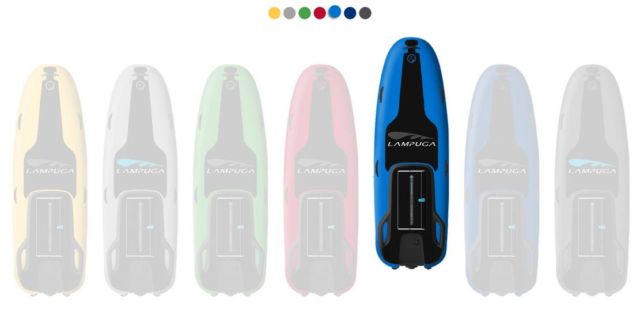 The surfboards are equipped with an electric motor, which has a capacity of 10kW, equal to 14hp. The motor is powered when the battery is inserted into the board's battery compartment and the power button located on the battery is pressed. To ensure that the motor runs on an optimal temperature a cooling system is employed, where water is sucked in and circulated through pipes surrounding the motor.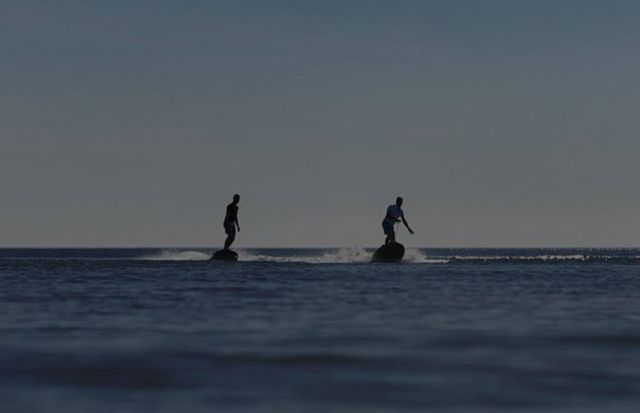 Powered by the electrical motor, the boards are accelerated forward by a jet drive. The jet drive sucks in water, which is accelerated by an impeller to create a powerful stream of water, which is forced out at the stern of the board. The force creates a thrust of 50kg that pushes the board forward, enabling the Lampuga Air to reach a speed of 50km/h, and the Lampuga Boost 58km/h.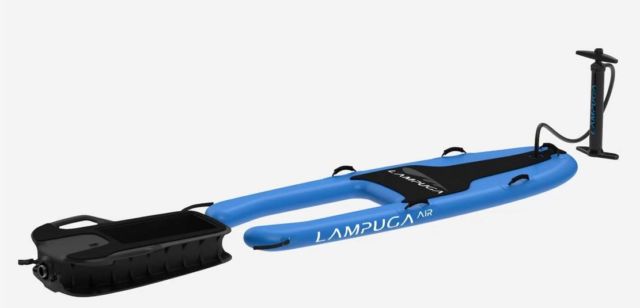 The rider controls the speed of the powered surfboards using a hand-held remote control, which is connected to the board via Bluetooth. The remote control is attached to a handle that is connected to the board by a tether. The handle provides the rider with greater stability and control by giving the rider something to hold on to while riding. The remote control is detachable for the more experienced riders who wants to ride without the stability of the handle.
source Lampuga