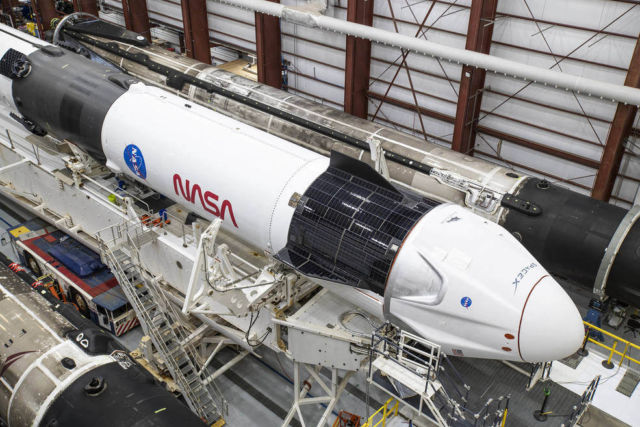 NASA completed the signing of the Human Rating Certification Plan Tuesday for SpaceX's crew transportation system after a thorough Flight Readiness Review ahead the agency's SpaceX Crew-1 mission with astronauts to the Space Station.
Years of design, development, and testing have culminated in NASA officially certifying the first commercial spacecraft system in history capable of transporting humans to and from the International Space Station as part of the agency's Commercial Crew Program.
Above: A SpaceX Falcon 9 rocket and Crew Dragon Resilience for NASA SpaceX's Crew-1 mission are seen inside the SpaceX Hangar at NASA's Kennedy Space Center in Florida on Nov. 9, 2020, before rollout to Launch Pad 39A.   Credits SpaceX
"I'm extremely proud to say we are returning regular human spaceflight launches to American soil on an American rocket and spacecraft," said NASA Administrator Jim Bridenstine. "This certification milestone is an incredible achievement from NASA and SpaceX that highlights the progress we can make working together with commercial industry."
The Crew Dragon, including the Falcon 9 rocket and associated ground systems, is the first new, crew spacecraft to be NASA-certified for regular flights with astronauts since the space shuttle nearly 40 years ago. Several critical events paved the way for this achievement, including grounds tests, simulations, uncrewed flight tests and NASA's SpaceX Demo-2 test flight with astronauts Robert Behnken and Douglas Hurley earlier this year.
"Today's signing is about the people across NASA, SpaceX and other groups that came together to complete an unbelievable amount of hard work to accomplish this task," said Kathy Lueders, associate administrator for NASA's Human Exploration and Operation Mission Directorate. "Certification moves us from the design and test phase into the crew rotation phase of our work, but we will not stop making sure every flight, including NASA's Space Crew-1 mission, will be approached with the same rigor we have put into making this the best system it can be for our astronauts."
source NASA