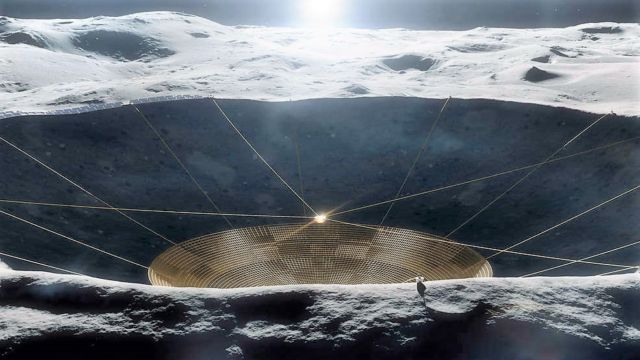 Illustration of a conceptual radio telescope within a crater on the Moon. The early-stage concept is being studied under grant funding from the NASA Innovative Advanced Concepts program.
NASA encourages researchers to develop and study unexpected approaches for traveling through, understanding, and exploring space. To further these goals, the agency has selected seven studies for additional funding – totaling $5 million – from the NASA Innovative Advanced Concepts (NIAC) program. The researchers previously received at least one NIAC award related to their proposals.
"Creativity is key to future space exploration and fostering revolutionary ideas today that may sound outlandish will prepare us for new missions and fresh exploration approaches in the coming decades," said Jim Reuter, associate administrator for NASA's Space Technology Mission Directorate (STMD).
NASA selected the proposals through a peer-review process that evaluates innovation and technical viability. All projects are still in the early stages of development, with most requiring a decade or more of technology maturation. They are not considered official NASA missions.
Among the studies is a neutrino-detecting mission concept that will receive a $2 million Phase III NIAC grant to mature related technology over two years. Neutrinos are one of the most abundant particles in the universe but are challenging to study since they rarely interact with matter. Therefore, large and sensitive Earth-based detectors are best suited to detect them. Nikolas Solomey from Wichita State University in Kansas proposes something different: a space-based neutrino detector.
"Neutrinos are a tool to 'see' inside stars, and a space-based detector could offer a new window into the structure of our Sun and even our galaxy," said NIAC Program Executive Jason Derleth. "A detector orbiting close to the Sun could reveal the shape and size of the solar furnace at the core. Or, by going in the opposite direction, this technology could detect neutrinos from stars at the center of our galaxy."
Image credit Credit Vladimir Vustyansky
source NASA