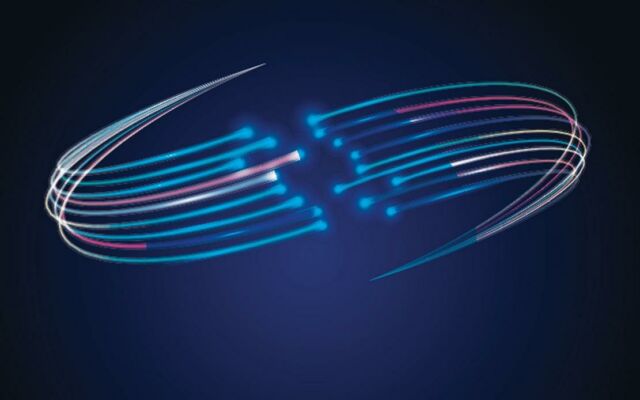 Scientists have set a world record by transmitting 1.8 petabits per second., using only a single light source.
An international group of researchers from Technical University of Denmark (DTU) and Chalmers University of Technology in Gothenburg, Sweden have achieved dizzying data transmission speeds and are the first in the world to transmit more than 1 petabit per second (Pbit/s) using only a single laser and a single optical chip. 1 petabit corresponds to 1 million gigabits.
Their data transmission method uses significantly less power and can help reduce the Internet's climate footprint.
In the experiment, the researchers succeeded in transmitting 1.8 Pbit/s, which corresponds to twice the total global Internet traffic. And only carried by the light from one optical source.
The light source is a custom-designed optical chip, which can use the light from a single infrared laser to create a rainbow spectrum of many colours, i.e. many frequencies. Thus, the one frequency (colour) of a single laser can be multiplied into hundreds of frequencies (colours) in a single chip.
Victor Torres Company, professor at Chalmers University of Technology, is head of the research group that has developed and manufactured the chip.
"What is special about this chip is that it produces a frequency comb with ideal characteristics for fiber-optical communications – it has high optical power and covers a broad bandwidth within the spectral region that is interesting for advanced optical communications," says Victor Torres Company.
source DTU