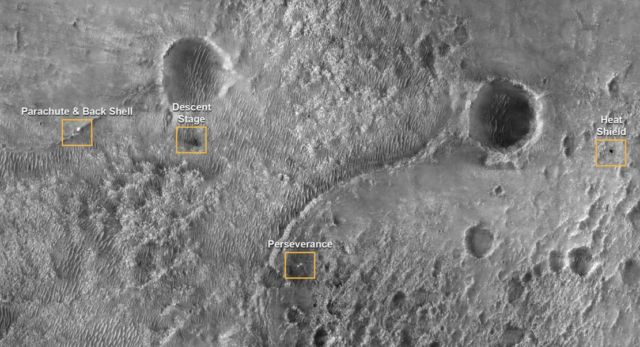 NASA's Mars 2020 Perseverance mission captured thrilling footage of its rover landing in Mars' Jezero Crater on Feb. 18, 2021.
The real footage in this video was captured by several cameras that are part of the rover's entry, descent, and landing suite. The views include a camera looking down from the spacecraft's descent stage (a kind of rocket-powered jet pack that helps fly the rover to its landing site), a camera on the rover looking up at the descent stage, a camera on the top of the aeroshell (a capsule protecting the rover) looking up at that parachute, and a camera on the bottom of the rover looking down at the Martian surface.
The audio embedded in the video comes from the mission control call-outs during entry, descent, and landing.
Above image: Mars Reconnaissance Orbiter (MRO) image showing the location of the rover, the parachute and back shell, the descent stage, and the heat shield. Credit NASA/JPL
Panorama of Mars from Perseverance Rover
This panorama, taken on Feb. 20, 2021, by the Navigation Cameras, or Navcams, aboard NASA's Perseverance Mars rover, was stitched together from six individual images after they were sent back to Earth. A key objective for Perseverance's mission on Mars is astrobiology, including the search for signs of ancient microbial life. The rover will characterize the planet's geology and past climate, pave the way for human exploration of the Red Planet, and be the first mission to collect and cache Martian rock and regolith.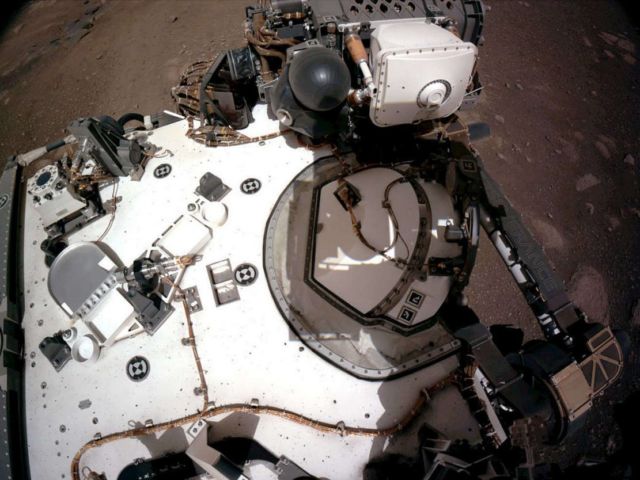 Mastcam-Z taking a photo of its calibration target on the rover's deck.Image: NASA/JPL
[APOD]