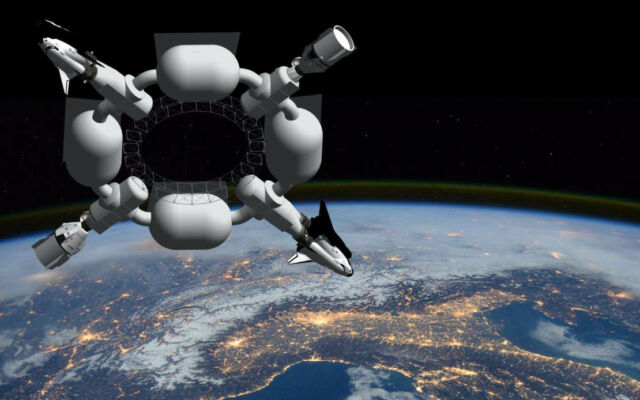 Pioneer-class Stations are Space Hotels with artificial gravity, designed to accommodate 28 guests for up to two weeks, by 2025.
Orbital Assembly Corporation announced plans to develop Pioneer-class Stations, comprising of five modules built around a rotating gravity ring, in Low Earth Orbit.
Rhonda Stevenson, chief executive officer of Orbital Assembly, explained:
"The Pioneer design is a safe, secure, and reliable modular station that will generate revenue and profitability from both the tourist and commercial sectors sooner than our competitors who are adhering to NASA timetables."
Pioneer-class Stations will be the first habitable platforms capable of providing artificial gravity, unlocking unprecedented opportunities for research, tourism, and long duration spaceflight.
The Pioneer Class of space station marks a fundamental shift away from existing station architectures. Artificial gravity capabilities are now available in the LEO ecosystem.
Flexible Architecture:
2 to 8 Habitable Modules
2 to 8 Airlocks
4 to 16 Docking ports
35.5m min. Station Diameter
375 m3 volume per module
Capabilities:
Crew capacity of 14 to 56 (configuration dependent)
Up to Lunar level simulated gravity
Isolated long duration mission simulations
Separate tourist facilities
Pressurized and Vacuum payloads
Interfaces:
IDSS docking/berthing ports
International Standard Payload Racks
source Orbital Assembly Corporation