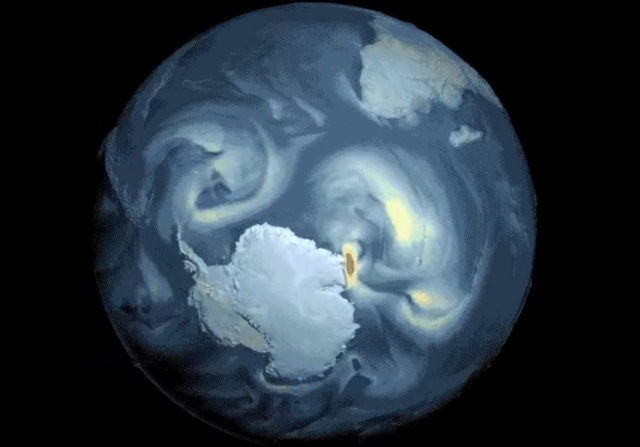 These powerful gusts in this amazing video, described as the "mightiest current" in all the oceans, called the Antarctic Circumpolar Current (ACC).
The Antarctic Circumpolar Current (ACC) is an ocean current that flows clockwise from west to east around Antarctica. An alternative name for the ACC is the West Wind Drift. The ACC is the dominant circulation feature of the Southern Ocean and has a mean transport estimated at 100-150 Sverdrups (Sv, million m³/s), or possibly even higher, making it the largest ocean current.
For #EarthDay: A little visualization of surface winds around Antarctica.#Roaring40s pic.twitter.com/a108ea8lgJ

— NCAR Science (@NCAR_Science) April 22, 2019
The current is circumpolar due to the lack of any landmass connecting with Antarctica and this keeps warm ocean waters away from Antarctica, enabling that continent to maintain its huge ice sheet.
Associated with the Circumpolar Current is the Antarctic Convergence, where the cold Antarctic waters meet the warmer waters of the subantarctic, creating a zone of upwelling nutrients. These nurture high levels of phytoplankton with associated copepods and krill, and resultant foodchains supporting fish, whales, seals, penguins, albatrosses, and a wealth of other species.