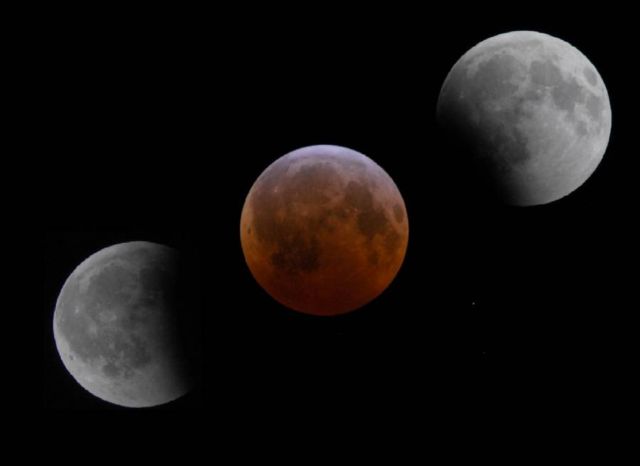 The Moon on Wednesday will do something it hasn't done in more than 150 years: A super moon, a blue moon and a total lunar eclipse.
In this video, all you need to know about the rare event:
The Jan. 31 full moon is special for three reasons: it's the third in a series of "supermoons," when the Moon is closer to Earth in its orbit — known as perigee — and about 14 percent brighter than usual.
It's also the second full moon of the month, commonly known as a "blue moon." The super blue moon will pass through Earth's shadow to give viewers in the right location a total lunar eclipse.
While the Moon is in the Earth's shadow it will take on a reddish tint, known as a "blood moon."
Above image, the "winter solstice total Lunar eclipse" of December, 2010.  Credit Dave Dickinson 
Watch Live Wednesday's rare blue moon lunar eclipse: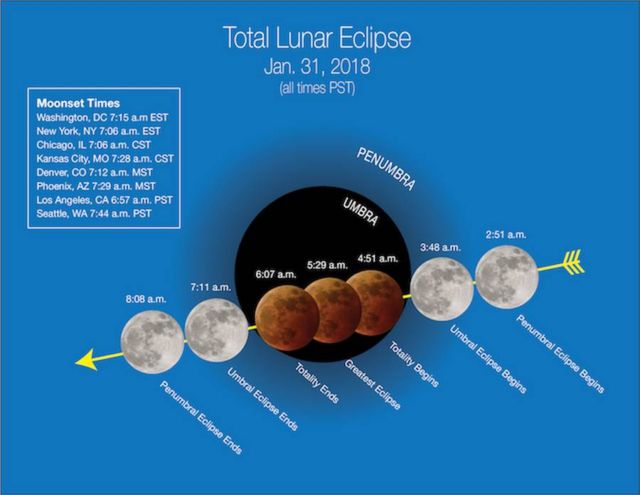 Stages of the Jan. 31, 2018 "super blue blood moon" (weather permitting) are depicted in Pacific Time with "moonset" times for major cities across the U.S., which affect how much of the event viewers will see. While viewers along the East Coast will see only the initial stages of the eclipse before moonset, those in the West and Hawaii will see most or all of the lunar eclipse phases before dawn.  Credits: NASA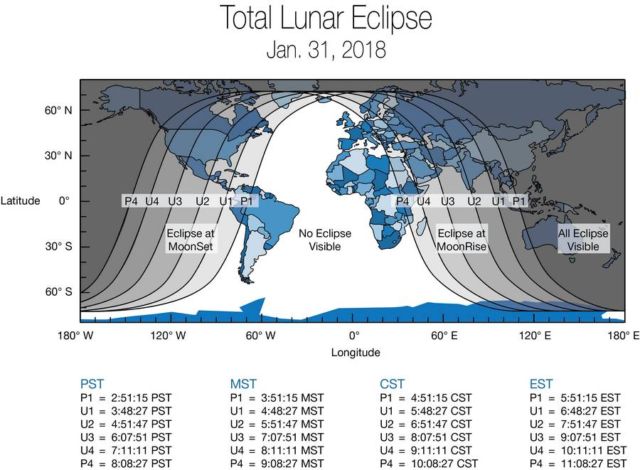 Global map showing areas of the world that will experience (weather permitting) the Jan. 31, 2018 "super blue blood moon." The eclipse will be visible before sunrise on Jan. 31 for those in North America, Alaska and Hawaii. For those in the Middle East, Asia, eastern Russia, Australia and New Zealand, the "super blue blood moon" can be seen during moonrise the morning of the 31st. Credits: NASA
source NASA